Re-contest or we sue you, Ganduje tells Buhari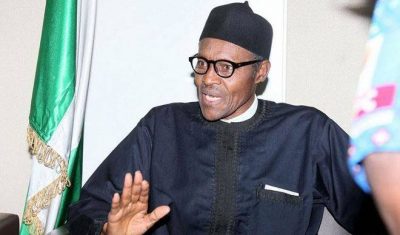 *Declares to run for second term
*says APC governors have reached consensus on reversal of tenure elongation
Governor Umar Abdullahi Ganduje of Kano State on Friday warned President Muhammadu Buhari that he faced possible legal battle if he declined to run again in 2019.
Ganduje, who fielded questions from some journalists in Abuja, also declared his intention to contest the 2019 governorship election for consolidation of the on-going developmental projects.
"APC governors want Mr President to continue. I am happy that it is not the president that said he wants to continue, it is the people that are saying continue. But Mr President has not made up his mind yet.
"When he came to Kano, I told him that any time he decides not to contest, we will take him to court. Kano State government will take him to court any time he decides not to contest. So, we are waiting for him.
"In this country, we saw presidents who spent billions of Naira for third term. So, what is the ruse about a constitutional second term. Some people who spent billions of Naira in order to go for third term, I think it should not be news or something like that," the governor of Kano State said on why President Buhari must re-contest in 2019.
Ganduje, who also spoke on his decision to seek a second term of four years, said Kano people had implored him to pursue a re-election bid.
He said, "In Kano, people are saying four plus four, that is, they are urging me to contest again. But I too feel that in order to continue with the good development that we have started, development requires some time and the constitution has given four years and another four years in order to consolidate what one has started.
"I am convinced that I too will seek for second term and people are also urging me to do so. Eventually, it will be left to the people to decide whether I will qualify or not."
Governor Ganduje, who spoke on the tenure elongation controversy, gave an hint that the earlier decision on the issue would be reversed during Monday's emergency National Executive Committee (NEC) meeting of the ruling All Progressives Congress (APC).
He said that the governors who hitherto backed the tenure extension idea had been convinced on the need to embrace the option of fresh congresses and national convention.
He said, "Yes, there was controversy on this even though on Wednesday, we were able to put it at rest. But let me tell you the issues involved, those who are advocating for tenure elongation, they are advocating on the premise that when we hold congresses and convention according to their own perception, there will be a lot of problems and that problem will linger into election period.
"Well that is a perception, it could be that way and it could be that some people wanted to retain power. Therefore, that reason is biased.
"However, I don't belong to that school of thought. The constitution of our party has made a provision for four years and at the end of it, we have to hold congresses and convention. The constitution of Nigeria has also provided for that, so we have no reason whatsoever.
"If you are saying that there would be some problems, problems are part of ingredients of politics, there is no way you can practice democracy in a developing country without having some problems. There must be problems. There must be divergent views and disagreements. There will never be a time that things will be 100% normal. So, even if there is problem, that is part of democracy and we will be able to move forward.
"So, for those who thought they would be able to continue, we said no. And so, I think Mr President finally hit the nail on the head by saying that he is not in favour of any tenure elongation.
"Tenure elongation is undemocratic. It may lead us to litigation which will not be good for the party and we are happy that we have convinced the few governors that were for the elongation. And on Monday, we hope to have our NEC meeting where the previous decision will be reversed. And by then, timetable will be out for congresses at the ward level, congresses at local government level, congresses at the state level and finally convention at the national level.
"I think that is the situation and I am happy to say that the chairman of the Nigeria Governors Forum issued a statement, the chairman of the APC Governors Forum also issued a statement and the national chairman of the party Chief John Odigie-Oyegun made a statement as well to say that all is well."  (Daily Trust)