Revealed: Lille made €47.6m profit from Osimhen Napoli move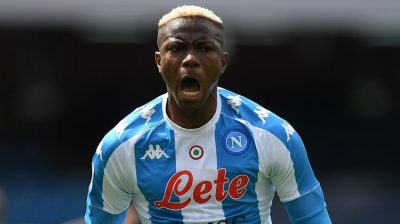 French Ligue 1 club, Lille, made a huge profit of €47.6m with the sale of Victor Osimhen to Napoli in 2020, PUNCH Sports Extra reports.
Osimhen, who joined the Partenopei for a club-record fee of €70m plus €10m in bonuses, is the only Nigerian player on the list of the biggest transfer profits on a global level in the last 12 months, according to Transfermarkt.
He is ranked in 30th place.
In Africa, only Manchester City winger Riyad Mahrez, Arsenal's Nicolas Pépé and Pierre-Emerick Aubameyang have earned more profits for their respective European teams than the Nigerian.
Mahrez earned Leicester City a profit of €67.30m when he joined Manchester City in July 2018 just as Nicolas Pepe move to Arsenal on August 1, 2019, saw Lille record a profit of €62m. Also, Pierre-Emerick Aubameyang's move to Arsenal in 2018 saw Borussia Dortmund recoup €50m in profit.
Paris Saint Germain star Neymar tops the list of players with the biggest transfer profits with the sum of €133m with his compatriot Philippe Coutinho in second place with €122m. French star Ousmane Dembélé is third on the list with €100m with Gareth Bale (€86m) and Eden Hazard (€80m) making the top five.
Jadon Sancho (€77m), Cristiano Ronaldo (€75m), Zinédine Zidane (€74m), Harry Maguire (€73m) and Virgil van Dijk (€68m) complete the top 10.
(punch)