REVEALED: Seme is Nigeria's No. 1 fuel smuggling route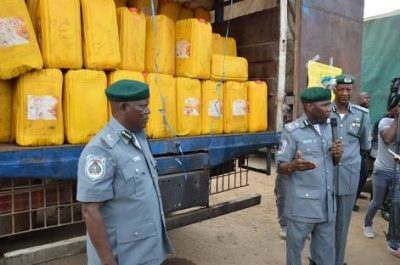 The Nigeria Customs Service (NCS) says it seized 174,015 litres of smuggled petroleum products worth N27, 755,492 in one year.
Seme, the border town between Nigeria and Republic Benin notorious for smuggling, is the preferred choice of the illicit trade.
Joseph Attah, public relations officer, NCS, told NAN on Monday that the clamp down on the products was made in various areas of the country where cross-border smuggling was prevalent.
"In the case of petroleum products, the statistics here is that of January 2017 to January 2018, a total of 174,015 litres have been seized across the Customs Commands," he said.
"Further breakdown shows that within this period, 81,270 litres of petroleum products were seized in Seme border, 69,150 litres in West Martine Command, 10,000 litres in Federal Operations Unit Zone D, that is the north-east.
"In Sokoto, 1,775 litres were seized, 10,5,00 litres in Ogun, 1,320 litres in Adamawa/Taraba, making a total of 174,015 litres with Duty Paid Value (DPV) of N27, 755,492."
He said though anti-smuggling efforts by the service had improved, new methods had been devised by smugglers to carry out their illicit operations.
"So, it makes the job of policing the movement of petroleum products on motor bikes more difficult, (because) there are many border stations that have up to 30 to 40 filling stations," he added.
"So, a review on who get licensed and where the filling station are going to be located, should be considered before issuing licenses, we believe this will be helpful in curtail smuggling.
"We will continue to ensure that petroleum products are not smuggled out, we will continue to be on the lookout and if we see three to four Jerry cans on motor bikes, we will definitely go after them. "Because they may just be petroleum products being smuggled out."
TheCable Petrobarometer had reported an upsurge in smuggling because of the cheaper petrol in the regulated Nigerian market.
Rising crude oil prices had made products more expensive in the neighbouring countries.
A recent study commissioned by the Nigerian National Petroleum Corporation (NNPC) revealed that an increasing number of filling stations in Nigeria's border towns are conduits for smuggling petroleum products.  (The Cable)