Rihanna, Asap Rocky Name Second Son 'Riot', Netizens React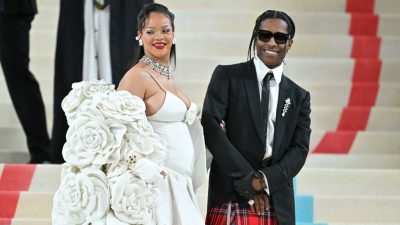 Mixed reactions have begun to trail multi-award-winning singer Rihanna's choice of name for her newborn son.
Rihanna and her partner, rapper Asap Rocky, welcomed their second child on August 1 and have named him 'Riot Rose Mayers,' The Blast reports.
The couple are also parents to son, RZA Athelston Mayers, born in 2022 and named after legendary Wu-Tang Clan rapper, RZA.
Tweeps have since begun to share their thoughts on the couple's choice of name for their newly-born son.
One tweep #provii8 tweeted, "Rihana naming her second son Riot is all cool until the boy starts leading riots in college."
#damiadenuga tweeted, "Rihanna and ASAP Rocky name their son Riot aka Idamu Adugbo. Portable influenced them."
#Hantibedavid tweeted, "God gave Rihanna and A$AP Rocky 9 months to choose a name for their baby boy and all they could come up with is Riot?"
#Amblue_jay also tweeted, "Rihanna named her son Riot but people continue to laugh at Zimbabwean names."
#Mbahdeyforyou also wrote, "As them dun born Riot, next pikin' go be Protest."
#Raylex04, who seemed to like the name 'Riot,' commented on X, formerly Twitter, saying, "Rihanna named her child "Riot" and the child is going to be Rich and successful despite his name, and then there's you "Glory" With no glory. Happiness with no joy, Wisdom wey nor wise. "
#Ovo_himself449 also tweeted, "You see people Abroad bearing names like Stone, Bucket, Riot making it in life but here in Nigeria, pesin wey dey bear Success dey write Jamb 4 times."