Rihanna named Barbados national hero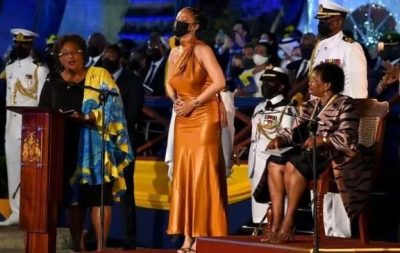 Award-winning Barbadian-American singer and businesswoman, Robyn Rihanna Fenty has been named Barbados' national hero at its republican celebrations.

Rihanna was honoured as part of the celebrations marking Barbados' transition to a republic.

President-elect Sandra Mason set to take over as head of state after the country announced last year that it would sever ties with the monarchy.

With the generosity and charity she performs to enhance the standard of living of her people, Rihanna demonstrates that she is more than a musician, a business magnate, but a very proud citizen of her country.

Rihanna was honoured as a National Hero in Bridgetown, Barbados, during the inauguration ceremony for president-elect Sandra Mason.

'On behalf of a grateful nation, but an even prouder people, we, therefore, present to you, the designee, for a national hero of Barbados, Ambassador Robyn Rihanna Fenty, may you continue to shine like a diamond,' said the country's prime minister, Mia Mottley.

"May you continue to shine like a diamond and bring honour to your country through your works and actions," Mottley finished.

Rihanna was born in Barbados in 1988 and nurtured in Bridgetown until she was discovered as a teenager by American record producer Evan Rogers and moved to the United States to pursue a career.

The singer was appointed as a Barbadian cultural ambassador in 2008.

In 2018, Rihanna was named Ambassador Extraordinary and Plenipotentiary for her native nation, a post that includes promoting education, tourism, and investment.

When the Barbados government announced plans last year to "fully leave" their "colonial past behind" by becoming a republic in 2021, fans joked that Rihanna should take over as head of state in place of Queen Elizabeth II.