Secondus sues Lai Mohammed, demands N1.5bn damages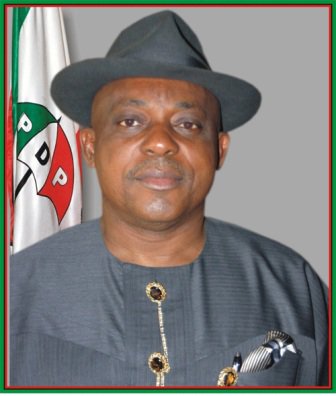 The  National Chairman of the PDP, Prince Uche Secondus, has dragged Mohammed to court for defamation of character.
Mohammed had on Friday, last week, identified Secondus as one of those who looted the nation's treasury in the first list.
He alleged that Secondus collected N200m from Dasuki, an allegation that was denied by Secondus, who said he was embarrassed by the minister's claim.
He claimed through a letter from his lawyer, Mr. Emeka Etiaba (SAN ), that he did not collect money and asked the minister to retract his statement. He also asked for the payment of N1.5bn as damages and a public apology within 48 hours.
The letter told Mohammed to note that if he failed to meet their demand after 48 hours, "We shall within 72 hours from today, proceed to a court of competent jurisdiction to ventilate our client's rights under the law and shall further seek the protection of the court against you."
Having failed to meet the demand, Secondus on Friday, made good his threat and filed a suit at the High Court, Port Harcourt, Rivers State,  asking the court to award the sum of N1.5bn to him as damages for humiliation, castigation, vilification attack on his person and integrity as a result of the publication.
According to a statement by the PDP National Chairman's Media Office, which was signed by his spokesperson, Mr. Ike Abonyi, Secondus, in the suit numbered: /PHC/1013/2018, is also claiming that Mohammed's publication is defamatory.
He, therefore, asked the court to direct Mohammed to retract the said publication and apologise to him in writing.
He asked the court to compel the minister to publish the retraction and apology in the Nation, This Day, The Sun, The Guardian and The PUNCH as well as on television stations like Nigerian Television Authority and Channels TV, among others, where the "defamatory" report was published.
Secondus is also asking the court for a perpetual injunction restraining the defendant from further publishing defamatory materials against him.
Joined in the suit are the Federal Government of Nigeria through the Attorney General of the Federation and the Vintage Press Limited, publishers of The Nation Newspapers.
Also included in Mohammed's first list were a former PDP National Publicity Secretary, Olisah Metuh, who is on trial for allegedly collecting N1.4bn from NSA office; Dr. Raymond Dokpesi, who is on trial for taking N2.1bn from NSA office; and a former Senior Special Adviser to President Jonathan, Dudafa Waripamo-Owei, who is on trial over N830m kept in accounts of four different companies
In the second list, the minister said based on EFCC's investigation, N126bn, $1.5bn and £5.5m were allegedly embezzled through Dasuki's office. He said the amounts were not part of the ongoing $2.1bn military equipment scandal.