Sen. Nnamani led Ebeano political family joins APC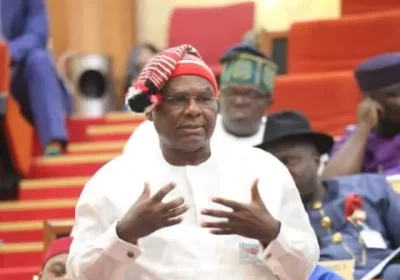 Senator Chimaroke Nnamani led Ebeano political family said in a statement on Tuesday that it has decided to join the All Progressives Congress (APC).
The Chairman of the family, Chief Emmanuel Okwor announced this in a statement issued in Enugu on Tuesday. The group mainly consists of followers and loyalists of Nnamani who governor of Enugu State from was 1999 to 2007.
Nnamani was governor on the platform of Peoples Democratic Party, PDP, for eight years and has been a senator on the platform of the party since 2007.
He was, however, suspended for campaigning for anti-party activities by the PDP following his campaign for the presidential candidate of All Progressives Congress, APC Bola Tinubu in the run up to the 25 February election.
He also lost his re-election to the Senate.
Nnamani had on Tuesday announced that he is quitting the PDP.
He, however, did not indicate if he will be joining the ruling party following the victory of the presidential candidate he campaigned for.
But his Ebeano political family, in the statement by Okwor, said they decided to go into alliance with APC to consolidate the partnership with President-elect, Sen. Bola Tinubu to achieve good governance in the country.
He said members of the family across the country had been consulted and were in agreement with the alliance in the interest of the people.
The Ebeano chieftain stated that the interest and welfare of the group would be better served under the APC structure in the country.
He noted that the family, established in 1999, had remained the dominant political force in Enugu State.
According to him, the group had consistently produced Governors, Senators, members of the House of Representatives, Houses of Assembly members, Ministers as well as Local Government Council officials in the state.
NAN