Seven fined, handed stadium ban for racially abusing Vinicius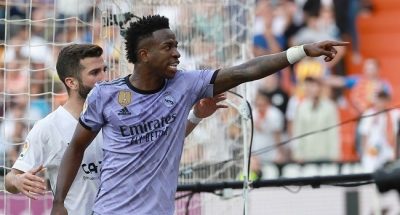 On Monday, Spain's State Commission said the body had sanctioned seven people involved in racist attacks on Real Madrid and Brazilian star Vinicius Jr.
They were punished for causing violence, racism, xenophobia and intolerance in sports.
Four men who hung an inflatable black effigy of Vinicius Jr likeness and jersey number (20) on a bridge near Real's facilities before the team's cup match against Atletico Madrid on January 26 were fined $64,255 and banned from sports venues for two years.
The Brazilian was racially abused by some Valencia fans who called him 'monkey' during a LaLiga game against Real Madrid on May 21.
The commission sanctioned three people who took part in the abuse. They were fined $5,354.50 and banned from sports venues for one year after making racist gestures toward the Brazilian.