Situation in Gaza horrific, it must stop – UN Chief Guterres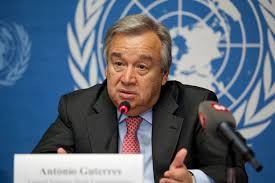 The United Nations (UN) Secretary-General António Guterres has described the humanitarian situation in Gaza as 'horrific.'
In a post on X (formerly Twitter), the UN chief renewed his appeals for a humanitarian ceasefire and the immediate release of all hostages.
In a similar post, Guterres also expressed his outrage over the Israeli forces attack on an ambulance convoy outside Al Shifa hospital in Gaza.
"Now, for nearly one month, civilians in Gaza, including women and children, have been besieged, denied aid, killed and bombed out of their homes. This must stop," UN Chief says.
According to Al Jazeera's reports, Israel's heavy bombardment of Gaza has intensified, targeting schools, shelters, hospital areas and ambulances,
Gaza health ministry said, at least, 15 were killed in a strike on a school in Jabalia refugee camp on Saturday.