Solid minerals: Dele Alake woos investors, promises profit repatriation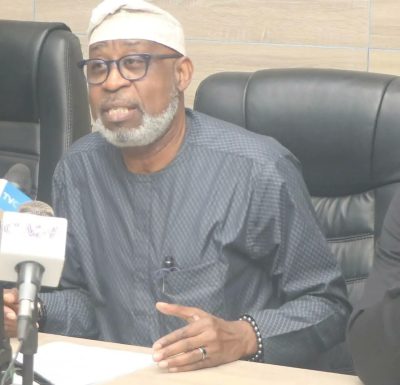 The Minister of Solid Minerals Development, Dele Alake, reached out to investors yesterday, encouraging them and promising that they can profit from their investments in the sector.
Alake made this commitment after the '21st Africa Down Under Conference' held in Perth, Australia. During the event, he discussed the lucrative prospects within Nigeria's mining sector.
Investors were thrilled by his announcement of attractive incentives during the fourth session, leading to a rush of interest at the Ministry of Solid Minerals' exhibition booth at the Pan Pacific Hotel venue.
Furthermore, he informed the investors about the Federal Government's intention to create the Nigerian Solid Minerals Corporation, which would serve as a bridge between Nigeria and the global mining sector.
According to him, the government must assist investors by providing substantial funding for geoscientific investigations into the country's mineral wealth, including their quality and quantity.
This will enable investors to make more informed assessments of their investment costs and profit prospects
He said,
"Nigeria is open for business and with our ongoing reforms in the solid minerals sector.
"I can assure every investor that comes to our country of the conducive operating environment and good returns on their investments.
"The laws permit investors to take profits out."
The Minister also stated that Nigeria is becoming a prime location in Africa for valuable minerals, especially because there's a lot of lithium here. Lithium is crucial for car batteries and is highly sought after by the automotive industry.
He emphasized that the advancements made by investors like Basin Limited in their Jupiter project, focused on lithium mining in Northern Nigeria, along with Lithium King's investments in the Southwest of Nigeria, provide clear confirmation that Nigeria stands as the most profitable destination for this valuable mineral.
The Minister assured investors of their safety and profits, and he maintained that the Nigerian government has given illegal miners 30 days to join co-operatives and to deploy surveillance task force and mine police to combat criminals at the mining sites.
More Insights on the Investors
Affirming the Minister's commitments to the Jupiter project, Dr. Stevens Davies and partner Hugh Morgan of Basin Limited have shared insights.
They've noted that lithium deposits in multiple Nigerian regions are conveniently close to the surface, necessitating mainly quarrying for extraction.
This favorable condition offers lucrative investment opportunities.
According to them, the company is working on a nickel project that has shown good prospects in Nigeria.
In addition, a United Kingdom and Ghana mining investor, David Gardner, expressed delight and hope in the roadmap presented by the Minister, saying it ignites his interest to invest in Nigeria's mining sector.
Other investors at the mining forum include Mr. Guy Le Page, Director, RM Capital; Mr. Ossama Aasriou, Head, Procurement, Distribution and Marketing, CTA Group; Mr. Mark Atta-Danso, Chairman, Stakeholder Engagement, African Mining Professionals Association of Australia; Mr. Smart Bateman, Managing Director, Innov-Africa; Mr. Oumar Baba Sy, Managing Director, TAMIPA; David Abbott, Business Development Manager, Xcalibur; and Mr. Doug Horak, Business Development Manager, Intertek, Australia. (Nairametrics)