South Africa's Deputy President To Step Down Ahead Of Cabinet Shake-Up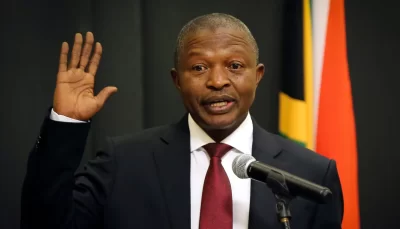 South Africa's deputy president, David Mabuza, is to step down, President Cyril Ramaphosa announced on Thursday ahead of an expected cabinet reshuffle.
Addressing parliament in Cape Town, Ramaphosa said Mabuza "has indicated his wish to step down from his position."
He thanked Mabuza, 62, for his "unwavering support" over the last five years, during which he said the pair had worked "side-by-side".
The move had been long expected, and Mabuza had said earlier this month at his brother's funeral that he had tendered his resignation.
Paul Mashatile, 61, ruling African National Congress's former treasurer is widely expected to take over from him.
Mashatile was elected to the influential post of ANC's deputy president in December.
The appointment gives him a stepping stone to becoming No. 2 to Ramaphosa in the state presidential hierarchy.
South Africa's president is chosen by parliament, where the ANC has an overall majority.
The party – the vanguard of the decades-long struggle against apartheid – has ruled South Africa since the advent of democracy in 1994.
A controversial figure nicknamed "The Cat," Mabuza was seen as close to former president Jacob Zuma, a political rival of Ramaphosa.
Opponents routinely accused him of having his own private "military" which is allegedly linked to political intimidation and even political killings, many years ago when he was premier of the eastern province of Mpumalanga.
Ramaphosa, who won a second term at the helm of the ANC in December, is expected to announce changes to his government team after the publication of the annual budget next week.