Subsidy: Planned Strike Lacks Justification, SDP Presidential Candidate Hits NLC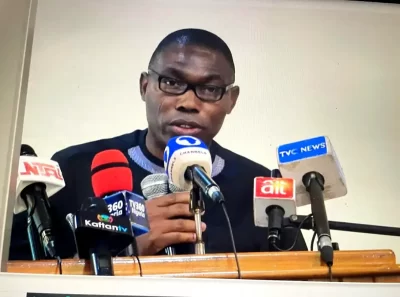 The Presidential candidate of the Social Democratic Party (SDP) Prince Adewole Adebayo has berated the Nigerian Labour Congress (NLC) for planning to go on strike over the removal of the fuel subsidy.
Addressing newsmen in Abuja at the weekend, Adewole said with over 20 million Nigerians voting for the three main presidential candidates who promised to remove subsidy, the Labour unions have no reason to declare any strike.
He said the Presidential Candidates of the All Progressives Congress, (APC), Peoples Democratic Party, (PDP) and Labour Party, (LP), in the last election promised that they will remove subsidy and yet over 20 million citizens voted for them.
He, therefore, said NLC, and the masses have no genuine reason to protest against the removal of the fuel subsidy by the President Bola Ahmed Tinubu-led federal government, especially since they refused to vote for his party that promised to sustain the subsidy.
Adebayo stated this while reacting to the planned nationwide strike by the labour unions and wondered why voters and the Labour unions are now turning around to kick against the removal of the fuel subsidy, when the three leading parties had, expressly, made it clear, during the electioneering campaigns, that they will remove the subsidy if elected into office.
He lamented that his party, the SDP, which promised to keep the subsidy was not elected.
According to Adebayo, "Hours after President Bola Tinubu's inaugural speech about removal of subsidy, fuel stations across the country increased the fuel pump price by more than 300 percent making the transport operators increased fares with its attendance effects on the passengers.
"Members of the organised Labour under the aegis of the Nigeria Labour Congress, NLC, and Trade Union Congress, TUC, described the pronouncement by President Bola Tinubu as outrageous and insensitive to the economic plight Nigerian masses were being subjected to.
"Joe Ajearo, President of the Nigerian Labour Union, advised the government to adopt an alternative strategy that would not adversely hurt the Nigerian while seeking to resolve the issue of subsidy.
"They (the three leading political parties) said they were going to remove fuel subsidy. We thought it was a very bad idea and we debated it all over the country. But the three major parties, which supported subsidy removal-APC PDP and Labour Party-were handsomely rewarded by the voters.
"People like us, the SDP, said NO, cut the corruption because you need social safety net for the people, and the subsidy is a way to control other cost drivers to avoid cost push inflation. So try to cut the heavy burden of wastage of corruption, not the subsidy.
"The labour unions protesting now were there when these parties publicly said they would remove subsidy, none of them objected, why protesting now?" (Daily Trust)