Sudan Crisis: Airstrikes, Shelling As Ceasefire Attempt Fails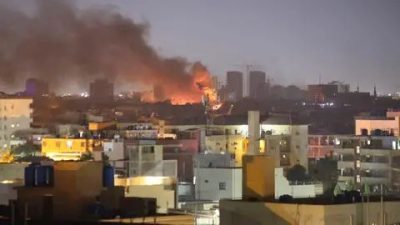 A ceasefire in Sudan that came into force on Thursday has already been broken, with airstrikes and heavy shelling reported near the presidential palace in the capital Khartoum in the morning, according to Al-Jazeera.
Artillery fire was also heard in the neighbouring town of Omdurman, according to eyewitness reports on Twitter.
The week-long ceasefire agreed to by both factions in the Sudanese conflict was supposed to be in effect from Thursday until May 11. However, the chances that it would hold had been considered slim.
Since the fighting began in Sudan between military factions loyal to two top generals nearly three weeks ago, ceasefires of up to 72 hours have been repeatedly negotiated only to be repeatedly broken.
Sudan's de facto president, Abdel Fattah al-Burhan, is leading the military in a power struggle against his former deputy, Mohammed Hamdan Daglo, who heads the paramilitary Rapid Support Forces (RSF).
The two generals had once seized control of Sudan together in joint military coups.
However, repeated disagreements about how to share power led to a deepening rift between the two camps, which culminated in open fighting on April 15 and plunged the country with its around 46 million inhabitants into a grave crisis. (dpa/NAN)