Terror Unleashed in the Name of Blasphemy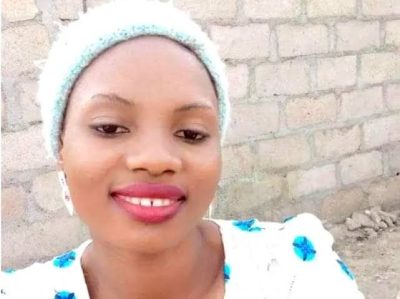 Following the recent killing of a student of Shehu Shagari College of Education, identified as Deborah Samuel, Vanessa Obioha plumbs the impunity of religious fanatics and the consequences of their actions
When Deborah Samuel, a student of Shehu Shagari College of Education, Sokoto, posted a voice note on her class WhatsApp group, she had no idea that her action would be her death sentence. She was oblivious that her choice of words and tone would incense the Muslim faithfuls in the academic community such that her death would be the ultimate price.
Samuel was said to have allegedly blasphemed against Prophet Mohammed when she condemned the activities of the WhatsApp group which was created to share assignments and tests. The deceased, whether knowingly or unknowingly, in the recording used the 'wrong' words to caution her classmates to use the platform for its main purpose rather than to spread Islamic messages.
In the digital age of over-sharing, Samuel's voice note travelled to every nook and cranny of the institution and settled in the ears of some religious extremists who believed her utterance was blasphemous. Thus, the search for Samuel began as she was declared wanted.
There is no concrete information on how long it took her killers to find her but when they did, they dragged and stoned her to death, and eventually set her body aflame. They jubilated as the body, once moulded as a woman, burned to ashes. Her body was laid to rest on Saturday.
Support of Blasphemy from Northern Elite
The video of her death likewise went viral and sparked mixed reactions on different social media platforms. While some condemned the act, others lauded it as the right punishment for those who blaspheme against the Holy Prophet of Islam.
Take, for instance, the son of a former Inspector-General of Police, Mohammed Abubakar, Jamil Abubakar expressed his support for the death penalty on his Facebook account.
He wrote: "In Islam, we respect the Injil, Taura, Zabur, we were never taught to disrespect any of the book or any of the prophets From Adam to Muhammad SAW & the Quran.
"The punishment for Blasphemy is DEATH! in most religions including Christianity.
Respect people's religion. It's simple!"
He added: "In Islam, the Sharia court handles these cases. Islam put rules and regulations to control people's actions and motives, so the wrong ones are not cheated and justice is served the right way."
Jamil who is also a pilot is married to one of Africa's richest people, Aliko Dangote's daughter.
Imam of the national mosque Ibrahim Maqari in reacting to the killing said: "It should be known to everyone that we the Muslims have some red lines beyond which must not be crossed. The dignity of the Prophet (PBUH) is at the forefront of the redlines. If our grievances are not properly addressed, then we should not be criticised for addressing them ourselves."
A 2015 tweet by the former aide to President Muhammadu Buhari on Digital and New Media Bashir Ahmad where he voiced his support for the death penalty given to nine persons accused of blasphemy was dug up.
In the tweet, Ahmad wrote: "I can't pretend or keep silent. I support the death penalty for BLASPHEMY. That's my belief and I do not and will never support #SaveKanoNine."
Condemnations
Former Minister of Education Oby Ezekwesili tweeted: "May God comfort the family of a young woman who went to be educated and paid with her life just because a bunch of murderers accused her of "religious blasphemy" in a "Democracy" in 2022. May God speak the word that can strengthen Deborah's family in Jesus name!"
Prominent media personality Kadaria Ahmed in a tweet said: "We have totally lost our way and are in fact fast becoming a Godless people despite pretense to the contrary. I am angry."
Vice President Yemi Osinbajo in a Facebook post condemned the lynching of Samuel.
"I must say that the killing of Deborah Samuel is a deeply distressing thing, very disturbing – such an atrocious killing of the young lady by a mob who took the law into their own hands. It is very unfortunate."
He added that "As the President said, there's really no excuse for anyone to take the law into their own hands no matter the provocation, there are set processes for ensuring that we are able to redress whatever wrongs that are done against us.
"We must express our condolences to the family of the young lady Deborah Samuel. I can't imagine how her parents, siblings and members of her family feel, not just about her death, but the very horrendous nature of its occurrence. It is very sad indeed, and I extend our sincere condolences to them. I ask that the Almighty will comfort them at this time."
Kicking against the killing, the Christian Association of Nigeria (CAN) through its President, Rev. Olasupo Ayokunle, in a letter addressed to all bloc leaders, urged Christians to hold peaceful protests within their church premises on Sunday, May 22, 2022.
Pilloried for Weighing In
There were, however, some who were pilloried for weighing in on the matter. A typical example was the former ex-vice president Atiku Abubakar who had to delete his comments on Facebook and Twitter after the religious extremists threatened to withdraw their support for his presidential ambition. The vice president  had earlier tweeted:
"There cannot be a justification for such gruesome murder. Deborah Yakubu was murdered, and all those behind her death must be brought to justice. My condolences to her family and friends."
Atiku later distanced himself from the tweet, saying he never directed his aide to make such comments.
Flip Side of the Coin
When this crisis began, many also dug out an old tweet in 2013 by current governor of Kaduna State, Nasir Ahmad El-Rufai, where he blasphemed Jesus and no riot broke out over it. He wrote: "If Jesus criticises Jonathan's government, Maku/Abati/Okupe will say he slept with Mary Magdalene…LWKMD."
What the Sharia Law States
To be sure, under the Sharia law — a set of religious rules that forms part of the Islamic tradition — blasphemy refers to any form of cursing, questioning or annoying God, Muhammad or anything considered sacred in Islam, including denying one of the Islamic prophets or scriptures, insulting an angel or refusing to accept a religious commandment.
Different punishments for blasphemy against Islam, by Muslims and non-Muslims, ranging from imprisonment or fines to the death penalty.
Like Kano, Sokoto is among the states which have instituted Sharia as the main body of civil and criminal law. Other states include Zamfara, Sokoto, Katsina, Bauchi, Borno, Benue, Jigawa, Gombe, Kebbi, Yobe and Niger. Although controversies abound over the level of authority given to appeal courts of Sharia which was originally seen as customary law.
However, most punishments carried out on alleged offenders of blasphemy are meted out via jungle justice. Islam extremists often do not wait for the court decision before dealing with alleged offenders as is the case with Samuel, which adds to the growing list of individuals who have been sentenced to an untimely and cruel death for blaspheming against the Islamic Prophet Mohammed.
Timeline of Death by Blasphemy
Last year in Bauchi State, a water vendor popularly called Talle Mai Ruwa was beaten to death and burnt alive for alleged blasphemy against Islam and Prophet Muhammad (PBUH).
Ruwa had a misunderstanding with a lady customer who allegedly fetched his water without his knowledge. Despite the lady's plea to him in the name of the prophet, the furious Ruwa had insulted her parents and the prophet. This led to his untimely death as a mob stormed the community police station where he was being detained, seized him and thereafter set him ablaze in front of the police station.
In 2016, 70-year-old Bridget Agbahime was gruesomely killed in Kano for alleged blasphemy. The woman who sold kitchen utensils was accused of blasphemy for asking a Muslim to move his Islam cleansing ritual away from the entrance of her shop. Before the matter could be settled amicably, Agbahime who hailed from Imo was assaulted by a mob. Her husband, Mike, a pastor of Deeper Life Church who tried to protect her had to flee as his wife was beaten and clubbed to death.
That same year, four people were killed in a riot in Niger over alleged blasphemy by a Christian trader against Prophet Mohammed.
The accused, a 24-year-old Methodus Chimaije Emmanuel, was said to have posted a blasphemous comment on Facebook. Although he went into hiding, he was fished out by an angry mob who killed him despite his parents' revulsion over the comments. The riot also resulted in the looting of shops and burning of properties including a church.
On 19 June 2009, a Muslim mob in the town of Sara in Jigawa burned a police outpost and injured about twelve people over alleged blasphemy against the Islamic Prophet Mohammed. The mob complained that someone was distributing blasphemous pamphlets, and it demanded that the police give up a mad man who had sought safety at the police outpost.
In 2008, there were more than three deaths carried out by irate Muslim faithfuls. Two happened in February. The first one which took place on February 4, saw a Muslim mob besiege a police station and set it on fire in the city of Yano in Bauchi.
The police station was the refuge of a Christian woman whom the mob accused of desecrating the Quran. One report said that the woman had spurned an offer of marriage from a Muslim man and that he and his companions had seized the opportunity to riot. In the ensuing violence, five churches were set alight by Muslims, Christian shops were torched, and policemen's homes were attacked.
On February 9, a Muslim mob rioted in the town of Sumaila in Kano. The mob acted upon the alleged distribution of a leaflet that allegedly slandered Mohammed. The mob killed a Christian police inspector and two civilians and wounded twenty others. They also set fire to vehicles and destroyed the police station.
On April 20, Muslim rioters in the city of Kano burned the shops and vehicles of Christian merchants after one allegedly disparaged Mohammed.
A Muslim mob in Kano on August 9 of the same year, beat to death a 50-year-old Muslim man who blasphemed Mohammed.
On September 28, 2007, a Muslim mob rioted at Tudun Wada in Kano. The mob killed nine Christians, burned several churches, and destroyed the homes and businesses of some non-Muslims. The Muslims complained that Christian students had drawn a picture of Mohammed. The Christians reported that the violence erupted after they had prevented one of their members from converting to Islam.
Also on March 21, 2007, a mob of Muslim students and neighbourhood extremists beat to death Christianah Oluwatoyin Oluwasesin, a mother of two and a teacher at Government Secondary School of Gandu in the city of Gombe. A student complained that Oluwasesin, a Christian, had touched a bag which allegedly contained a Quran, and had thereby defiled the Quran.
In February 2006, thousands of Muslim rioters went on rampages in different states. The rioters burned churches, torched Christian shops and homes, and killed Christians. The reason for the violence was ostensibly outrage at the publication in the Danish magazine Jyllands-Posten of cartoons that some Muslims consider blasphemous.
That same month in Bauchi, Florence Chukwu, a Christian teacher, confiscated a copy of a Quran from a pupil who was reading it during an English lesson. The incident provoked rioting by Muslims. The riot killed more than twenty Christians and destroyed two churches.
On November 20, 2002, Muslim and Christian mobs rampaged in the cities of Kaduna and Abuja. The rampage began after an article in THISDAY suggested that Mohammed would have approved of a Miss World pageant that was taking place in Abuja.
Muslim mobs accused the newspaper of blasphemy and burned down its office building in Kaduna. Then the mobs attacked churches and properties owned by Christians. Christian mobs confronted the Muslim mobs. Soldiers and police intervened. About two hundred and fifty people died.
On 14 July 1999, in the village of Randali in Kebbi, a Muslim mob beheaded Abdullahi Umaru. The mob accused Umaru of blasphemy against Mohammed.
There are also instances where the Sharia court issues sentences that many consider too harsh. A good example is a Sharia's court sentence to a 22-year-old musician, Yahaya Aminu Sharif in 2020. The singer was found guilty of using derogatory expressions against the Prophet Mohammed in one of his songs and was sentenced to death by hanging. An angry mob also burned down his family's house.
A 13-year-old Omar Farouq, in 2020, was sentenced to 10 years in prison for blasphemy. His lawyer however appealed, saying that his sentence violated the African Charter of the Rights and Welfare of a Child and the Nigerian constitution. His sentence also drew the attention of the United Nations Children's Fund (UNICEF). The body condemned and sought the immediate reversal of the sentence.
In October 2007, a Sharia court convicted Sani Kabili, a Christian and a father of six, in the town of Kano, of blasphemy against Mohammed. The court sentenced Kabili to three years in prison. In February 2009, an appeal court overturned the conviction.
These killings led to the addition of Nigeria to a religious freedom blacklist by the United States.
Clash of Constitution with Sharia Law 
Most critics have argued that the Sharia law contradicts the Nigerian constitution which allows religious freedom and tolerance. Section 38 of the constitution entitles every Nigerian to freedom of thought, conscience, and religion, and Section 39 gives every Nigerian the right to freedom of expression.
The worrisome and incessant killings by the religious extremists bring to the fore the dearth of powerful institutions to deal with such cases.
Many Nigerians are of the opinion that if perpetrators of such heinous acts have been brought to book, perhaps they will be deterred. But in instances where the culprits are later freed as seen in the case of Agbahime, such actions will be carried out with impunity.
Protest in Sokoto
Following the outcry over Samuel's killing, Governor of the Sokoto, Aminu Tambuwal condemned the act and promised to fish out the perpetrators. He also closed down the school to avoid unrest and imposed a curfew in the state.
"Following the sad incident that happened at the Shehu Shagari College of Education, on Thursday and sequel to development within the metropolis this morning, by the powers of section 176(2) of the constitution of the Federal Republic of Nigeria, and also section 15 of Sokoto state peace preservation law, I hereby declare, within the Sokoto metropolis, for the next 24 hours," Tambuwal said. "I appeal to the citizens of Sokoto state to kindly continue to observe law and order."
However, by Saturday, after the police announced that two suspects in connection with the killing were arrested, the streets of Sokoto were invaded by angry Muslim youths who demanded the release of the captives.
They carried placards that read: "Release our Muslim brothers", "Muslims Are Not Terrorists", and "Peaceful riot". They proceeded to loot shops belonging to traders and also burnt and looted about three Catholic Churches before peace was restored.
With such actions, not a few Nigerians doubt that Samuel's death may never get justice and are likely to just be another victim of irate religious extremists.
Quote"Not a few Nigerians doubt that Samuel's death may never get justice and are likely to just be another victim of irate religious extremists"

(Thisday)