'The 3-headed monster' — 50 Cent marks 20-year partnership with Eminem, Dr Dre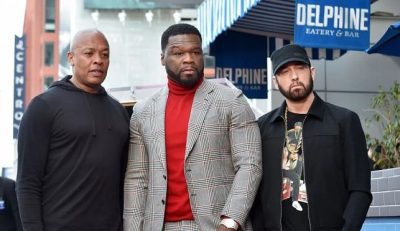 50 Cents, the US rapper, has reflected on his partnership with Eminem and Dr. Dre on the 20th anniversary of 'Get Rich or Die Tryin' album.
The singer took to his Twitter handle to share an old video of the trio during an interview on MTV.
In the clip, Dr. Dre lauded 50 Cent over the album while they filmed the 'In Da Club' video.
"50's album, in my opinion, is going to compete with all the classic Hip Hop records that have come out over the last 10 years — Illmatic, The Chronic, Ready to Die, The Marshall Mathers LP — it's right up there," Dre said in the video.
The album, which was released on February 6, 2003, featured Eminem and Dre.
Dre produced five tracks from the album. Eminem, on the other hand, produced and co-produced six tracks, featuring two.
In the tweet, 50 Cent described the trio as the "3-headed monster" while marking the project's success in the past 20 years.
The actor and filmmaker said he "is so blessed" to have teamed up with the two music heavyweights.
"When you have a team like this it's hard to lose, I'm so blessed to have worked with the best ever. you can re-write a book, you can re-write a song but you can't re-write history. The 3-headed monster EM, DRE and 50 Cent. Boom," he wrote. 
The tweet comes a few hours after the rapper marked the album's milestone on social media.
50 Cent gained global recognition following the release of 'Get Rich or Die Tryin'.
The project housed hit songs like 'In Da Club,' '21 Questions' and 'P.I.M.P'.
It is believed that it was the best-selling album of 2003.