Three days. 10 mass shootings. More than 50 victims. US sees worst weekend of 2023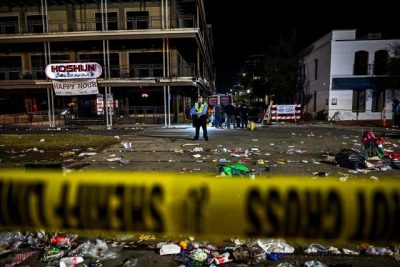 .Nine children were shot at Georgia gas station.
.Six people were killed in a Mississippi town.
.Eleven people were shot in Memphis.
.Five people were injured near a parade in New Orleans.
.Six people were shot on a Chicago expressway.
That's just half of the reported mass shooting violence over the weekend.
There were 10 mass shootings from Feb. 17 through Feb. 19 – the most of any weekend so far this year, according to data from the Gun Violence Archive. That's considering all shootings from Friday to Sunday in which four or more people were shot, not including the shooter or shooters.
The number of shootings over the weekend is unusual for mid-February in the U.S., experts told USA TODAY. The incidents come on the heels of several high-profile mass shootings in California last month, as well as an attack at Michigan State University last week.
10 mass shootings 'high for this time of year'
Mark Bryant, executive director of the Gun Violence Archive, said 10 mass shootings in a single weekend is "certainly high for this time of year." Research suggests gun violence in the U.S. typically increases during the warmer months.
Mass shootings in 2022 reached their peak in mid-July, when the U.S. witnessed 15 mass shootings over a regular weekend, according to Gun Violence Archive data. Over the long July Fourth weekend (Friday through Monday), there were 20.
This past weekend, there were two mass shootings in Georgia and Missouri and one each in Indiana, Illinois, Tennessee, Louisiana, South Carolina and Mississippi. All together, 13 people were killed and 46 injured.
At least 15 of the victims were children and teens, according to a USA TODAY review of related police and local news reports. Information on all victim ages was not immediately available.
It was not immediately clear if the firearms used in the shootings were obtained legally.
Mass shootings in 2023 outpace 2022
There have been 82 mass shootings this year, compared to 59 at the same time last year, according to data from the publicly sourced nonprofit database.
New Orleans Deputy Police Chief Hans Ganthier said five people were shot, including a young girl, all of whom were taken to the hospital.
More
'More guns everywhere'
Daniel Webster, director of the Johns Hopkins Center for Gun Policy and Research, said the mass shootings underscore ongoing inaction from state and federal lawmakers.
"Instead, state lawmakers have pushed Right to Carry laws that either eliminate the need to get a license to carry concealed guns or make getting such a license very easy," Webster said. "But the 'more guns everywhere' approach has been found to increase violent crime and does nothing to reduce mass shootings."
Webster noted almost all of the states that witnessed mass shootings over the weekend – expect for Illinois and South Carolina – do not required a license to carry concealed loaded guns. (USA Today)