To deepen gas development, Asiko Group unveils LNG, CNG depot in Benin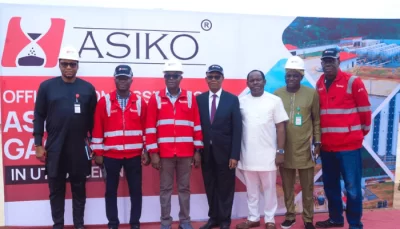 Asiko, a provider of clean energy solutions operating in Nigeria's energy sector has unveiled a 300 Metric Tonnes Liquefied Petroleum Gas (LPG) and Compressed Natural Gas (CNG) depot in Utesi, Ikpoba Okha local government area of Edo state.
This project invariably aligns with the federal government's priority objective to attain 5 million MT of LPG consumption by 2023.
Speaking at the official commissioning of the gas depot, Alex Ogedegbe, the Chairman of the Asiko Group, expressed that the gas potential of Nigeria is enormously huge and the LPG/CNG depot is designed to provide much-needed energy solution to Nigeria and beyond.
"Today, we are excited to launch our 300MT LPG and CNG depot. The multi-product gas depot, promises to improve gas availability and distribution in the region."
According to him, "The LPG/CNG depot is poised to become a hub for a wide range of gas products. Under its licensing agreement, the depot is authorised to store Propane, LPG (Liquefied Petroleum Gas), CNG (Compressed Natural Gas) and Liquefied Natural Gas (LNG).
Currently, it stores LPG and CNG, with plans for future development to enable the storage of LNG in the near future. The 300MT depot, the biggest in Benin, marks an added step towards contributing to a clean energy future and the realisation of the Federal Government's decade of gas initiative."
Ogedegbe said, "Nigeria is endowed with up to 183 trillion cubic feet of gas deposit, and we have not consumed up to 5 percent of that deposit in Nigeria today. Imagine how much we can distribute to Nigerian society and beyond if we have installations and facilities like this that we are commissioning today.
Also speaking to newsmen at the event, Abubakar Folami, a Director at Asiko, said that the company has similar inland depots and plants across Nigeria, with an impressive inland Propane and LNG terminal currently under construction in Ijora, Lagos.
Similarly, the Utesi Community head, (Okaighele) Monday Edo, said he was very happy about the project commissioning.
This LPG/CNG depot is not just a beacon of progress for the energy sector; it also carries a profound impact on the local community. The depot is expected to generate over 100 direct and indirect jobs opportunities, contributing significantly to the economic welfare of the region.