Trump will be held accountable for January 6 Capitol riot – Pence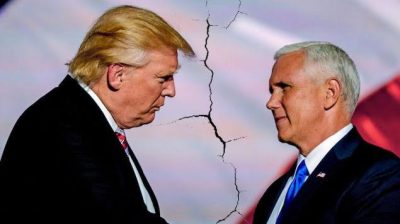 Ex-U.S. Vice President Mike Pence has criticised former President Donald Trump's controversial role he played in the aftermath of the 2020 presidential election loss to Joe Biden, saying, "history will hold Donald Trump accountable."
Mr Trump tried every unsuccessful means to overturn the presidential election following his loss, with the U.S. court rejecting most of his claims on several counts for lack of proof.
He also called several state election officials, trying to convince them to cancel the election results.
On January 6, 2021, Mr Pence and other U.S. Congress members were at the Capitol to certify the electoral college votes, ignoring Mr Trump and some Republican Party leaders' strident calls not to certify the election's outcome.
More than 1,000 Trump supporters, egged on by the ex-president, stormed the Capitol building while the certifying process was going on to stop Mr Pence from carrying out his legal duties, which many call a betrayal and betrayal threatening his life.
This decision landed many rioters in prison for an array of offences.
Speaking to a group of elite Washington journalists and government officials at the annual Gridiron dinner Saturday night as he prepares to battle Mr Trump and Florida Governor Ronald DeSantis for the Republican presidential nomination ahead of the 2024 election, Mr Pence said history would hold his former boss accountable.
"President Trump was wrong; I had no right to overturn the election," Mr Pence said. "And his reckless words endangered my family and everyone at the Capitol that day. And I know that history will hold Donald Trump accountable."
"Tourists don't injure 140 police officers by sightseeing," Mr Pence said at the dineer. "Tourists don't break down doors to get to the speaker of the House or voice threats against public officials. Make no mistake about it: what happened that day was a disgrace, and it mocks decency to portray it in any other way."
Mr Trump is under state and federal investigations to determine whether he violated the law with the roles he played during the January 6 "insurrection" aimed at overturning a duly elected government, an event that some Republicans and conservatives have downplayed.