Trump's lawyer Giuliani faces 6-hours of questioning by Georgia grand jury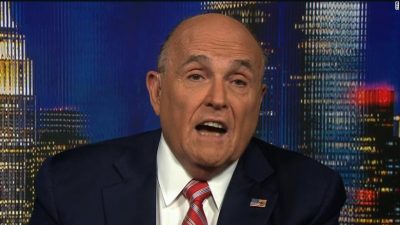 Former President Donald Trump's lawyer Rudy Giuliani faced hours of questioning Wednesday before a special grand jury in Atlanta as a target of an investigation into attempts by Trump and others to overturn his 2020 election defeat in Georgia.
The former New York mayor and Trump attorney left the Fulton County courthouse without commenting to reporters roughly six hours after the grand jury convened as part of a rapidly escalating investigation that has ensnared several Trump allies.
Giuliani's questioning took place behind closed doors, as grand jury proceedings are secret. Swarmed by news cameras in the morning when he stepped out of a black SUV at the courthouse steps, Giuliani said he didn't plan to talk about his testimony.
"Grand juries, as I recall, are secret," said Giuliani, who came to court with his attorney, Robert Costello.
"They ask the questions and we'll see."
Though grand jury secrecy rules prohibit people present during grand jury testimony from discussing it, that prohibition does not apply to witnesses, including Giuliani. As a former federal prosecutor, he is likely familiar with those rules.
It's unclear how much he was willing to say after his lawyers were informed Monday that he's a target of the investigation.
Costello told The Associated Press that the session, which lasted from 9 a.m. to 3 p.m. with a half-hour lunch "went very well. No disputes." Costello did not immediately address whether Giuliani answered questions or declined.
"Everyone was a lady or gentleman. Professional," he wrote in a text message, adding that Fani Willis, the Fulton County district attorney, came out to greet Giuliani and his lawyers at the end.
The investigation by the Democratic prosecutor has brought heightened scrutiny to the desperate and ultimately failed efforts to overturn Joe Biden's 2020 election win.
It's one of several investigations into Trump's actions in office as he lays the groundwork for another run at the White House in 2024.
Willis opened her investigation after the disclosure of a remarkable Jan. 2, 2021, phone call between Trump and Georgia's secretary of state, Brad Raffensperger.
On the call, Trump suggested that Raffensperger could "find" the exact number of votes that would be needed to flip the election results in Georgia.