Ummita: Chinese Says He Killed Nigerian Lover With Knife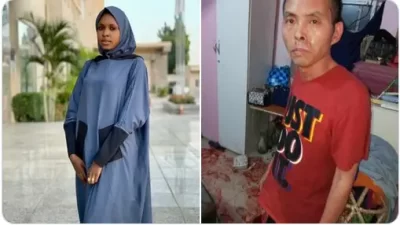 A Chinese, Frank Geng Quarong, who is standing trial before Kano State High Court over the murder of his Nigerian lover, Ummukulsum Sani Buhari, has confirmed killing her with a knife.
At the resumed hearing on Wednesday, while being cross examined, the defendant told the prosecution counsel, Barrister Aisha Mahmud, that he came to Nigeria in 2019. He said he was working with BBY Textile Company and that he earned N1.5m monthly.
Quarong, who added that he also had other personal businesses, said he used a knife and stabbed his lover which led to her death.
The defense counsel, Barrister Muhammad Balarabe Dan'azumi, told the court that they would present a young girl as their last witness in the next sitting.
Justice Sunusi Ado Ma'aji adjourned the sitting to March 30.
City & Crime further reports that Quarong had told the court that he spent over N60m on the late lover.