US ambassador 'apologises to South Africa' over claim of supplying arms to Russia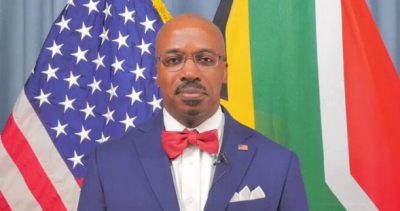 South Africa's foreign ministry says Reuben Brigety, United States ambassador to the country, has apologised for his comments alleging a military alliance between Russia and the country.
On , Brigerty said he was convinced that "arms and ammunition were loaded" onto a Russian cargo ship that docked near Cape Town in early December last year "before it left for Russia".
"Arming the Russians is extremely serious and we do not believe that this issue has been resolved. We would like South Africa to start practising its policy of non-alignment," he added.
South Africa has not publicly condemned Russia's invasion of Ukraine.
The ambassador said the US was concerned about South Africa's neutrality.
Vincent Magwenya, President Cyril Ramaphosa's spokesperson, said South Africa was not comfortable with Brigerty's remarks.
Magwenya said the ambassador had undermined the spirit of partnership and cooperation between the US and the country by his actions, adding that the presidency was disappointed.
The spokesperson said there was an agreement between both countries to allow an investigation into the matter but that the ambassador had taken counter-productive measures to tackle the issue.
He confirmed that a Russian ship had docked in the country but said there was no evidence to support Brigerty's claims.
In a statement on Friday, Clayson Monyela, spokesperson for the country's ministry of foreign affairs, said the US ambassador "apologised unreservedly" for his actions in a meeting.
The ambassador's comments were puzzling, Monyela added, and an independent inquiry into the situation had commenced.
"The Department of International Relations and Cooperation (DIRCO) has demarched the United States Ambassador to South Africa, Reuben E Brigety, and expressed the South African Government's utter displeasure with his conduct and statements made yesterday, alleging that South Africa sold weapons to Russia," the statement reads.
"DIRCO finds this behaviour by the US ambassador to South Africa puzzling and at odds with the mutually beneficial and cordial relationship that exists between the United States of America and South Africa.
"Following today's meeting, Ambassador Reuben E Brigety admitted that he crossed the line and apologised unreservedly to the government and the people of South Africa."
According to the statement, anyone found to have broken the law will face severe consequences. (The Cable)