VIDEO: How Ex Reps Member, Jibrin, Was Welcomed To NNPP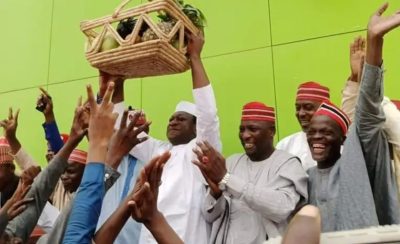 Former House of Representatives member, Abdulmumin Jibrin, has revealed the moment he was welcomed into the New Nigeria People's Party in Kano.
He shared a TikTok video on Saturday of himself bearing a basket of fruits and walking outside the house to meet the crowd that had gathered there.
He captioned the video, "NNPP- NEW NIGERIA- SABUWAR NIGERIA!!! #EyeOnTheBall."
Jibrin officially defected to the NNPP on Friday, after dumping the All Progressives Congress last Saturday.
Credit: Twitter | AbdulAmbJ