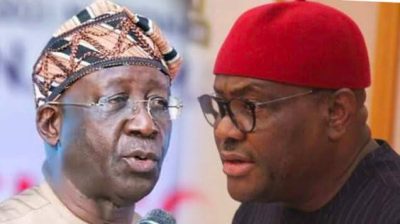 Rivers State Governor, Nyesom Wike has said the Peoples Democratic Party (PDP), will be stronger without the embattled National Chairman, Dr. Iyorchia Ayu.
The Governor maintained that under Ayu, PDP became weak, lacking that kind of leadership that should make it a strong political force to reckon with because embattled national chairman was busy with personal gains he could grab.
Wike made the accusation when he spoke at the Rumuigbo Civic Centre, venue of the inauguration of Rumuigbo Internal Roads in Obio-Akpor Local Government Area on Wednesday.
The governor said he cannot support Ayu, who instead of providing strong national leadership to the PDP, was busy building private university in Benue State from the money realised from the party's congresses.
"I believe that we should have a strong leadership. I can't support people whose interest is only to amass money.
"I can't support people where we did congresses and raised about N12.5 billion and within two months, that money was gone. And somebody has stayed in office for one year, he is building university, I won't support such," he said.
Wike explained that it was because of such unproductive leadership style in the party that he is supporting the removal of Ayu from office.
"That is why I am in support that Ayu must leave office if we want PDP to be strengthened. I owe no apology to anybody. I said it before, this is the final fight we will fight and we are going to win this fight."
Commenting on the internal roads project, Wike said in December 2022 when it was flagged-off, he promised that it will be completed and inaugurated by him, which has been fulfilled.
Wike told them that he feels satisfied to have performed well in office and declared in good authority that he served Rivers people credibly without also disappointing or embarrassing his kinsmen.
He assured of inaugurating more projects until the midnight of 28th May, 2023 without any project already ongoing abandoned.
Inaugurating the project, Governor Bala Mohammed of Bauchi State commended Wike for achieving more projects for Rivers people. He attributed this not entirely to too much money at the disposal of Wike, but his commitment to providing better living condition for Rivers people.
Mohammed also acknowledged the political sagacity Wike demonstrated in ensuring PDP in the State won the governorship, all State Assembly and three senatorial seats, and delivering votes that contributed to his preferred southern president.
Providing description of the project, Rivers State Commissioner for Works Dr George -Kelly Dakorinima Alabo said the roads are scattered in 17 streets of different sizes.