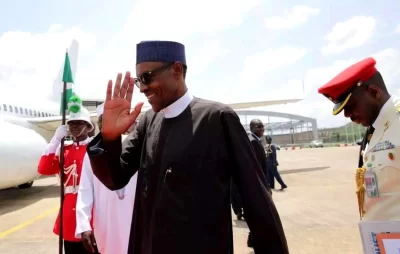 The 1.5billion dollar Lekki Deep Sea Port is a confirmation of President Muhammad Buhari's commitment to boosting the country's economy through infrastructure development.
The Buhari Media Organisation (BMO) says it is a game changer and yet another legacy that the President would be fondly remembered for.
BMO, in a statement signed by its Chairman Niyi Akinsiju and Secretary Cassidy Madueke, affirmed that the 1.5billion dollar port "is also another visible demonstration of intent and commitment to
national development by the Buhari administration, after years of infrastructure deficit, through a Public Private Partnership (PPP) approach.
"For the avoidance of doubt, the last time a sea port was constructed in Lagos was in the 1970s and here we are, more than 40 years after, with a multi purpose Deep Sea Port that is the largest in Nigeria and Sub-Saharan Africa.
"We invite Nigerians to note that the new Port which sits on 90 hectares of land in the 830 hectares set aside for the Lagos Free Trade zone in Ibeju-Lekki, was started and completed during the Buhari years.
"And for a piece of information which many will find useful against the backdrop of the previous 16 years of the Peoples Democratic Party (PDP) in power, it took only 45 months for the project of the magnitude and impact of the deep seaport to be completed.
"It is also interesting to note that the letter of intent between the proponents of Lekki Deep Seaport and the financial partners was signed in April 2019 but by January 2023, the project was commissioned and the first ship berthed.
"This, we dare say, shows that President Buhari has the necessary political will to make good his desire to improve upon what he met on assuming office in 2015.
"It is the same tenacity and zeal that is seen in the manner that other completed and ongoing infrastructure works, including the Second Niger Bridge and the rail projects are being handled," the statement read.
The group also noted that the projected economic benefits of the project showed that it is likely to be a game changer for the country.
"The first indication of what to expect is that the port which has the capacity to handle 1.2million standard containers is projected to create between 200,000 and 300,000 direct jobs from port operations alone.
"To underline its description as a game changer by international news agency, Reuters, the Lekki Deep Sea Port would generate over 361 billion dollars into the Nigerian economy as well 201billion dollars in revenue to federal, state government agencies from taxes, royalties and duties.
"This is indeed huge and is bound to increase the maritime industry's contribution to Nigeria's GDP from the miserly 0.01 per cent it posted in Q2 of 2022 with N2.4 billion out of a GDP of N45.5 trillion".
BMO added that the Lekki Deep Sea Port is a major pointer to President Buhari's constant assurance that he will leave the country better than he met it in 2015.(NAN)