World Powers Mobilise Resources For Türkey, Syria Quake Relief Effort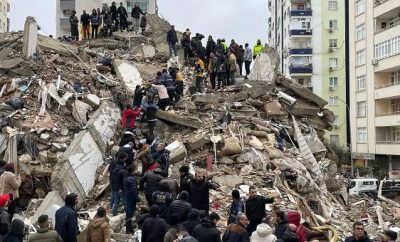 International offers to help Türkiye and Syria with rescue efforts poured in on Monday after a massive earthquake killed nearly two thousand people and wreaked devastation.
European Union
The European Union has mobilised search and rescue teams for Türkiye after the earthquake.
Ten urban search and rescue teams from various member states will support first responders on the ground, EU foreign policy chief Josep Borrell and EU crisis management commissioner Janez Lenarcic said in a statement.
The EU's Copernicus satellite system has also been activated to provide emergency mapping services, it added.
The EU is also ready to support those affected in Syria, it said.
Thirteen EU countries have so far offered rescue teams to help Türkiye after the earthquake, the European Commission announced.
"Ten Urban Search and Rescue teams have been quickly mobilized from Bulgaria, Croatia, Czechia, France, Greece, the Netherlands, Poland, Romania to support the first responders on the ground," it added.
Hungary, Italy, Spain, Malta, and Slovakia have also pledged similar help, the EU institution's spokesperson, Balazs Ujvari, said at a news briefing.
United States
US President Joe Biden ordered his team to provide Türkiye "any and all needed assistance" and to closely monitor the situation in the country hit by strong earthquakes.
"I am deeply saddened by the loss of life and devastation caused by the earthquake in Türkiye and Syria," Biden said on Twitter.
UNHCR
UN High Commissioner for Refugees Filippo Grandi voiced "solidarity" with those affected in both countries, saying the UN agency was "ready to help provide urgent relief to the survivors through our field teams wherever possible".
NATO
NATO chief Jens Stoltenberg voiced "full solidarity" with ally Türkiye, saying he was in touch with Türkiye's top leadership and "NATO allies are mobilising support now".
France
France will dispatch first aiders to Türkiye to attend rescue operations, the country's interior minister said.
"As requested by the president (Emmanuel Macron), 139 civil protection first aiders will go to Türkiye this evening as part of the European solidarity mechanism," Gerald Darmanin said on Twitter.
Britain
"The UK stands ready to help in whatever way we can," British Prime Minister Rishi Sunak tweeted saying his thoughts were with the people of Türkiye and Syria.
Britain was sending 76 search-and-rescue specialists to Türkiye, a minister added.
Greece
Kyriakos Mitsotakis, Greek Prime Minister, pledged to make "every force available" to aid its neighbour.
Mitsotakis said Ankara had already approved the dispatch of a Greek emergency rescue unit, and Athens was ready to send "additional equipment, medical supplies, blankets, tents" depending on further Turkish requests.
Russia
President Vladimir Putin sent messages to Turkish President Recep Tayyip Erdogan, conveying Russia's condolences and offering aid.
Ukraine
Ukrainian President Volodymyr Zelenskyy said that his war-torn country was "ready to provide the necessary assistance to overcome the consequences of the disaster."
The message was reiterated by Foreign Minister Dmytro Kuleba, who said Ukraine was "deeply saddened by the loss of life and damage" wreaked by the earthquake.
Pakistan
Pakistan offers all possible assistance from his government and the people of Pakistan, Premier Shehbaz Sharif said to Turkish President Recep Tayyip Erdogan in a phone conversation.
He said Islamabad will lend all possible assistance to Ankara to ride over the damage caused by the earthquake.
Sharif, according to a statement from the Prime Minister's Office, said that the government and the people of Pakistan stand alongside their Turkish brethren at this trying hour.
Malaysia
Malaysia will send a search and rescue team to assist in relief efforts after a devastating earthquake in southern Türkiye.
"A total of 75 members of the Malaysian Special Search and Rescue Team (SMART) will be moved to Türkiye tonight via a Turkish Airlines flight, bringing with them the equipment that will be used in the search and rescue operation," Armizan Ali, a Malaysian minister, said in a statement.
India
India said it would immediately send rescue and medical teams as well as relief equipment to Türkiye.
Two National Disaster Response Force teams comprising 100 personnel with dog squads and equipment were ready to be flown to the affected area, the foreign ministry said. Teams of trained doctors and paramedics with medicines were also being readied.
Prime Minister Narendra Modi said he was "anguished" and "deeply pained" by the deaths in Türkiye and Syria.
Iran
Iran is ready to provide "immediate relief aid to these two friendly nations", President Ebrahim Raisi said, offering condolences on the "heartbreaking incident".
(SOURCE: TRT World)