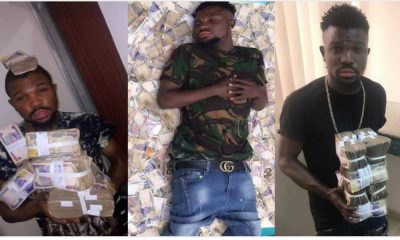 A young Nigerian man has cautioned internet users who constantly allege that he is a ritualist because of his ostentatious display of wealth on his social media handles.
The man simply identified as Freeman Obg Owoboy has become quite popular for showing off wads of cash on the internet.
In a post on his Facebook page, Freeman Obg Owoboy, shared a brief history about himself and said that people keep saying what they don't know adding that may God forgive them.
See his post:
"Let me brief you a little biography of me ,My real name is Ufuoma while my English name is Williams I'm from delta state urobo ughelli local government while my mom is from edo state .

"I have been in the street all my life without a family support, I lost my dad when I was a little boy then I lost my mom September 3 2009.

"Through there I became a typical street boy I have no option thank to work in car wash just to survived and I spend a year been a car wash boy with no home but to sleep in uncompleted building or government school for so many years.

"Along the line I met my J SS 3 friends and I spend extra 3 years before oluwa shine his light upon me and when I started seeing glory Then I said to my self I gotta keep my hustle spirit alive to avoid brokenness 2 years later I noticed I can never be poor again then I have to change my name to Owoboy ..

"Sometimes it really hurt me when people call me ritualist because they don't even no me and they keep saying what their eyes did not see I just pray God forgive them."
See some photos: