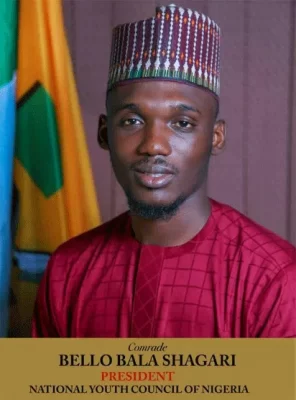 A youth leader and member of All Progressives Congress, APC, Bello Bala Shagari, has dissociated himself from the Progressive Youth Movement ,PYM, a group in APC that claimed to have disbanded the party's Caretaker Extraordinary National Convention Planning Committee ,CECPC.
The PYM, in a statement yesterday said it had disbanded the Governor Mai Mala Buni-led leadership.
Consequently, it named Mustapha Audu as the new CECPC chairman with the mandate of conducting the party's national convention on February 6.
The movement also named Bello Bala Shagari as a representative of the North-West in its CECPC committee.
But in a statement made available to Vanguard Bello Bala Shagari disowned the group and pledged his loyalty to the Buni-led group.
The statement reads:"
I write to categorically dissociate myself with the activities of The Progressive Youth Movement (PYM) which has claimed to have disbanded the APC Conventional Electoral Planing Committee (CEPC) and appointed its own including me as Vice Chairman North West.
I was not unaware of the activities of the group or their intentions. However, I have met with the leadership of the group prior to their announcement in order to voluntarily mediate between them and the party leadership under H.E Mai Mala Buni.
"In that meeting, they welcomed the intervention and agreed to a meeting with the Buni led leadership to resolve their grievances which in my view are considerable too, and the leadership has agreed to meeting with them. As a result, the PYM agreed to change their approach and in return I agreed to be part of them to support the struggle.
"To my greatest dismay, I found myself in their midst while they violate our gentleman's agreement and leaving me in shock. As a result, I have decided to withdraw myself until they mend their ways. It is not secret that I am among the biggest supporters of the Buni led CEPC, simply because I believe it has the best interest of young people and Nigerians at heart.
"As a youth leader, I have made my mark as a true advocate for young people and youth inclusion in Nigeria. Therefore, I share similar sentiments with PYM on youth inclusion but strongly disagree with their actions and methods thus far. And I look forward to the day they would sit for a dialogue with the party leadership for reconciliation. In fact, this is an objective I will continue to pursue.
"Lastly, I want to implore all party members especially the youth to continue to support the legally constituted Buni led CEPC and to settle their grievances in a way that will bring the party together rather than break it apart."