Atiku raises team to woo Wike, Rivers gov's camp adamant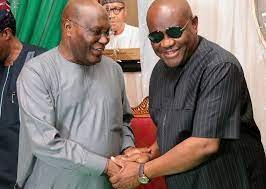 The  Peoples Democratic Party (PDP) presidential candidate, Atiku Abubakar, has set up a  committee to pacify and woo the Rivers State Governor, Nyesom Wike and some other aggrieved members of the party.
The initiative was instituted by Atiku based on the need to go into the 2023 general elections with a united front.
The opposition party has been rocked by crisis following the choice of the Delta State Governor, Ifeanyi Okowa, as Atiku's running mate.
Wike, Okowa and Governor Udom Emmanuel of Akwa-Ibom had appeared before the screening panel set up by the PDP to nominate a vice-presidential candidate to the PDP presidential flagbearer.
Okowa was nominated by the PDP presidential candidate after rumours had it that Wike had been selected by the party advisory committee as the vice-presidential candidate the day before.
But findings indicate that the PDP feared Wike might work against Atiku's ambition following his loss as the party presidential candidate and running mate to Atiku.
Signs that the PDP might run into stormy waters became pronounced with the defection of some of Wike's supporters from the party in the last 24 hours.
"There was an attempt to draft a man who was not interested in the vice-presidency into the vice-president; a committee set up, the caucus spoke, the national working committee of the party spoke favourably about Wike and it was not honoured."
 Nwuke further stated, "Atiku did what he wanted to do. So what committee is he setting up again? To do what?  It doesn't make sense.
 "When the convention was over, nobody showed him the way to Wike's house. If he wants Wike to work with him, he should walk to the Governor of Rivers State and speak with him. We don't need committees, what will the committee do? It doesn't make sense to me.
 "I don't know why relationships shouldn't be exploited. What is this committee thing?  You have something else in your mind, you set up a committee to do something else. What is the meaning of that?"
 "For the avoidance of doubt, Governor Wike had said no matter what happens he would not leave the PDP. That was what he said.
 "The implication is that a man who is committed to the PDP will work for the PDP, whether you set up a committee or not. And that is my personal opinion," Nwuke stated.
 Nwuke, who was also a former commissioner for Information and Communications in Rivers State,  also took a swipe at a former governor of Niger State, Babangida Aliyu, who accused Wike of being loquacious and rude.
Aliyu had in an interview on Channels Tv on Tuesday said that the PDP presidential candidate did not pick Wike as his running mate because he wanted someone that could complement him, rather than one that talks too much like Wike.
But Nwuke, who represented Etche-Omuma federal constituency in the National Assembly, dismissed Aliyu's criticisms, saying he didn't understand the difference between politicking and administration.
He argued, "The Wike that this man (Aliyu) is talking about has been chief of staff. As chief of staff, he never went against his principal. He spoke and did not go beyond his brief.
 "This same man (Wike) had served as the Minister of Education. While serving as minister he did not also speak out of tune. Of course, he knew who the boss was, he knew what his role was and he played his role.
 "And so people should draw a fine line between politicking and administration. They are not the same thing.
 "Everybody who knows Wike knows that he is a team player. In trying to help build the PDP he worked with a team of committed PDP people. And together, they were able to bring the PDP from where it was, in defeat to where it is today."
Efforts to reach the chairman of the River State PDP, Desmond Akawor, and the party's spokesman, Sydney Gbara, proved abortive as they did not respond to calls.