Buhari figurehead leader; Tunde Sabiu de facto president – Naja'atu Muhammad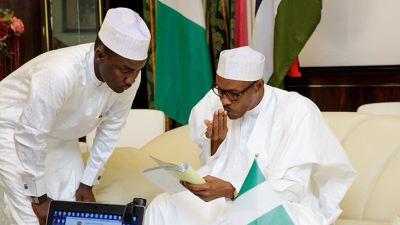 Naja'atu Muhammad, the former APC presidential campaign council's head of the civil society organisations directorate, has described President Muhammadu Buhari as a figurehead and apathetic ruler who has put Yusuf 'Tunde' Sabiu, his nephew, at Nigeria's helm of affairs.
"In the first place, Buhari does not care about anything. He had never cared. He doesn't care about the country, nor is he really in charge. He has thrown the country to the dogs. He has a prime minister in the name of his nephew—grand nephew Tunde," said Ms Muhammad in a THISDAY interview published on Wednesday. "Whether we want to believe it or not, Tunde is the de facto president."
Peoples Gazette in 2021 reported how Mr Buhari quietly gifted Mr Sabiu the position of an assistant director at the National Intelligence Agency (NIA).
Ms Muhammad is, however, claiming that Mr Sabiu has more powers than his benefactor, the Nigerian president.
"I know that even the service chiefs report to him. Tunde is Sabiu. Do you know him?" He's called Tunde because he was named after Tunde Idiagbon," she stated.
Mr Buhari's media aides did not immediately reply to Peoples Gazette's request for comments.
Ms Muhammad, a board member of the Police Service Commission, had told DCL Hausa that APC presidential candidate Bola Tinubu might be battling severe dementia, identified by memory loss which also results in loss of the ability to carry on a conversation and respond to the environment.
The former APC chieftain turned her attention to Mr Buhari, excoriating the former military dictator as an unsympathetic and aloof president. She also accused the governor of deliberately turning a blind eye to corruption allegations brought to his attention.
"On a few occasions when I had cause to see the president, I had given him in black and white some of the atrocities that are taking place in terms of corruption (and) theft of billions of naira. All he does is frown, and that's the end of it. He doesn't care. Sometimes, he tells you, 'I don't know'," Ms Muhammad revealed. "But how do you know? How do you know if you don't want to know? He doesn't want to know. He doesn't care."
Last December, The Gazette, in an exclusive report, exposed the provocative sale of Polaris Bank to an influential clique of Mr Buhari's cronies, including Mr Sabiu. Polaris was sold in October to Strategic Capital Investments Ltd for N50 billion, despite strong opposition from lawmakers and national voices that included Femi Falana. The firm was registered only six months earlier, on April 28, as a subsidiary of Ponglomerape Limited, owned by Auwal Abdullahi Gombe, a self-touted businessman more recognised as Ibrahim Babangida's son-in-law.
The Gazette was informed that Mamman Daura, the president's octogenarian nephew, and Mr Sabiu, the president's administrative aide and confidant, have significant interests in the SCIL.  (Peoples Gazzete)