Concerns over Tinubu's flurry of appointments, reversals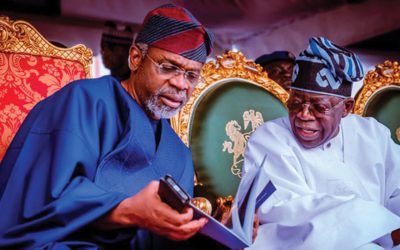 The manner in which President Bola Tinubu reversed some political appointments has continued to keep tongues wagging on the quality of due diligence on offer at the top, and calling to question, who is in charge at the presidency? KEHINDE OLATUNJI reports.
The recent appointments and dis-appointments of nominees by President Bola Tinubu has raised the issue of who is actually checking the profiles and suitability of political appointees before announcement, as well as calling the shots in Aso Rock.
Although the Chief of Staff to the President, Femi Gbajabiamila, is believed to be coordinating the activities of President Tinubu, it is not certain if there are other powerful elements in Aso Rock that are responsible for lack of due diligence before some appointments were made public.
On Friday, October 20, the President withdrew his nomination of Imam Ibrahim Kashim Imam, an engineer, as chairman of the Federal Roads Maintenance Agency (FERMA). This followed criticism that the appointee lacked adequate and prerequisite experience to give appropriate direction to the Board of a federal agency.
While some people saw Imam's appointment as a sort of fulfillment of the President's promise to carry the youth along in his administration, in line with the 'Not Too Young to Run Act' of 2018, others raised the issue of competence on account of lack of experience. Public criticism gained ground and the appointment was finally withdrawn.
Imam is the fourth whose appointment attracted public scrutiny and criticism. It started in August with Maryam Shettima (no relationship with Vice President Kashim Shettima), a medical doctor from Kano State, whose name was included in the supplementary list of ministerial nominees the President forwarded to the Senate on August 2 for confirmation.
While already enjoying the euphoria of a potential federal cabinet member, Tinubu withdrew Shettima's nomination when the Senate was already screening nominees. She was replaced with Mariya Mahmud Bunkure.
Although no official communication provided reason(s) for her withdrawal, there were reports that the 44-year-old doctor's nomination had been done without consulting a former governor of her state, who later became the National Chairman of the ruling All Progressives Congress (APC), Dr Abdullahi Ganduje.
Also, in reconstituting the Board of the Niger Delta Development Commission (NDDC), Tinubu approved the nomination of Mr Victor Akinjo to represent Ondo State and Asi Oku Okang to represent Cross River State.
No sooner had their nominations been announced than the President withdrew them, ostensibly following opposition from APC members in their states of origin.
Akinjo was said to be a member of the opposition Peoples Democratic Party (PDP), with a video of him faulting last year's APC primary elections posted online.
He had also accused APC of imposing Tinubu as a presidential candidate and making a joke of his health status.
Akinjo was subsequently replaced with Mr Otito Atikase, while Otuk Duke replaced Okang.
These scenarios have raised questions of lack of mechanism or process of search and suitability of appointees/nominees by the Presidency before their appointments were announced. The withdrawal of nominations raises questions about the quality of stakeholders consulting for the President before making choices of who becomes what.
It also challenges the claim by the President's supporters that he had prepared for the job for several years.
The flip-flop and inability of the President's men to conduct a thorough search on the nominees reminded Nigerians of how former President Muhammadu Buhari announced dead party loyalists as members of Boards of parastatals.
It was alleged that Buhari's 'real men' constantly removed some names from the original lists and supplanted them with names of their associates without the President raising any eyebrow or reversing the appointments.
On March 2020, Buhari appointed the late Tobias Chukwuemeka Okwuru, who once represented Ikwo/Ezza Federal Constituency of Ebonyi State in the House of Representatives to the Board of the Federal Character Commission (FCC), alongside 37 others contained in a letter the President sent to the Senate for confirmation.
But that was not the first time Buhari appointed dead people. In 2017, the list of appointments into the Boards of federal agencies and corporations contained the names of five dead persons, including Senator Francis Okpozo and DIG Donald Ugbaja (rtd) from Delta State; Rev. Father Christopher Utau (Benue), Garba Attahiru (Kaduna) and Umar Dange (Sokoto).
Okpozo died almost one year before his appointment as chairman of the Board of the Nigerian Press Council (NPC). Ironically, Buhari, in a statement by his spokesman, Femi Adesina, commiserated with family and friends of the Second Republic senator over his death, yet that record was not enough to remind Buhari's men of removing his name from the list.
A former minister of Youths and Sports, Solomon Dalung, said the withdrawal of Shettima's nomination shows that cabals still exist in the Tinubu administration, stressing that the same set of people ensured that he did not return as a minister because his tongue was described as "toxic."
He said: "Even now, there is a cabal in Tinubu's government, and they will always exist. They are a group of ambitious people with different ambitions within the power base set to hijack power and protect their interests.
"How would a ministerial nominee from Kano State find her name on the list and be told that she wasn't on the list upon confirmation?" he queried.
A public analyst, Mr Bola Bolawole, said: "Tinubu appointing and then reversing or revoking the appointment has happened so many times since he took office on May 29, 2023.
"Some are saying it shows a lack of preparedness for the high office of President on his part. Others, going forward, have said that this trend has demystified the President, casting doubt on the capacity and capability he had been credited with, especially with his stint as two-term governor of Lagos State and also as the brain being the cobbling together of APC, an opposition party that unseated a sitting government."
Bolawole, however, noted that another school of thought is that the flip-flop in appointments is a reflection of the intense horse-trading taking place in Tinubu's administration by many power blocs and power brokers that aided his ascension to power.
He noted that the development could also be as a result of reported ongoing power struggles and marking of territories between individuals and groups within the party in power, as diverse interests try to stamp their authority and establish competing hegemony.
Bolawole noted that the occurrence could also be a pointer to how difficult it is to govern a country as big and diverse as Nigeria, with sharp and often volatile divisions along ethnic, religious, socio-political lines.
He stated: "There is also the angle of the subterranean influence of some agencies of government that play critical roles in the screening and or confirmation of appointments, such as the Department of State Security (DSS) and the Senate, which can deliberately mislead the President or pile undue pressure on him, one way or another.
"In all of these, I am of the opinion that it is better to err and admit it and make amends than remain adamant and arrogant, thereby causing untold damage to the polity.
"In all the cases of reversal of appointments that I have noticed, public opinion has played a big role in twisting the President's hands to revisit the issue. That being so, we can say that Tinubu is a listening President, I prefer a leader who knows he is not infallible to one who plays God."
He urged the President to make haste slowly and sleep over critical issues and appointments before making them public, adding: "He should also take a look at his aides or sources responsible for the gaffes we have witnessed and mete out punishment. An embarrassment to the President is an embarrassment to the nation."
He noted that the damage done to the reputation and integrity of people so dropped, after their hopes had been raised, is better imagined than felt. "Thank God we have not heard cases of any of them having a heart attack and dying an untimely and unfortunate death. But that is not to say that such reversals of appointments would not have left a toll on their health and psyche. More so, when reasons are usually not officially and publicly given for such reversals, the rumour mill is thus activated and the good name and reputation that had taken some people decades of hardwork to build may go up in flames just like that. This is not good enough.
"So, in future reversals, efforts should be made to explain the reasons behind the reversal, so that people's good names and integrity are not flimsically imperiled."
A professor of Mass Communication, University of Lagos, and member of the World Journalism Education Congress (WJEC), Ralph Akinfeleye, said the recent reversals of appointments by the President were crowded by political, and illogical inconsistencies on the part of the political elites.
He bemoaned what he described as a political gimmick that played out and led to the reversal of Imam's appointment, saying before the President put his name forward, he must have been advised to do so.
On his part, APC's National Publicity Secretary, Mr Felix Morka, said withdrawal of a nomination is a normal procedural event in any administration for a number of good reasons, especially based on new information that may not have been available to the government prior to the nomination.
"If anything, it can be an indication of an administration that is reasonable, flexible and responsive to critical public opinion. That, in itself, is a hallmark of a functional democratic administration," he stated.(Guardian)