Wike is not a fit and proper person to be FCT Minister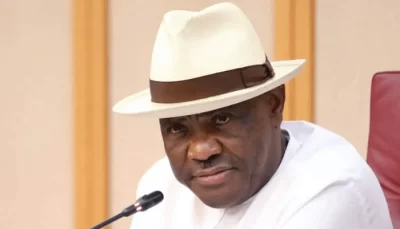 Let me say this unequivocally from the outset. A Southern-Christian is perfectly eligible to be Minister of the Federal Capital Territory, Abuja. Without a shadow of a doubt, a Christian from Southern Nigeria is as much qualified as a Muslim from Northern Nigeria to administer the FCT. So, this intervention is not an endorsement of Sheikh Ahmad Gumi's recent diatribe against a Southern-Christian Minister of Abuja. However, while a Southern-Christian is eligible to be FCT Minister, that Southern-Christian, just like any Northern-Muslim, must be a fit and proper person. I submit that Nyesom Wike, the rumbustious and self-regarding former governor of Rivers State, is not a fit and proper person to be FCT Minister.
Well, here's why. Abuja belongs to all Nigerians; it's a symbol of national unity, of common nationality. Therefore, it insults the sensibility of Nigeria and the intelligence of Nigerians to appoint someone reputed for using public office for self-aggrandisement, political brigandage and private gain as FCT Minister. Truth is, Wike epitomises the worst in any politician. He's a brash and bullying narcissist, who sees political power through narrow self-interests. Former Governor Ayo Fayose once said: "If Wike says he will fight you, he will fight you to the end." But Wike is utterly irrelevant without political office and control of public funds. They are what give him oxygen. Hence, it's offensive to allow him to use Abuja to advance his personal and political interests as he did magisterially in Rivers State.
But we must start with Bola Tinubu, the idiosyncratic president, who made Wike Abuja Minister. Tinubu has shown a predilection for personal rule and raw exercise of political power. Despite his weak mandate, having been rejected overwhelmingly by 63 per cent of the voters, Tinubu is ruling Nigeria like an absolute monarch, with utter arrogance and appalling insensitivity: arrogance in making his political appointments; insensitivity in spending lavishly to feed the luxuries of his presidency.
Wike would be politically irrelevant without being FCT Minister. The office gives him the political clout and wherewithal to cripple the PDP and turn Fubara into his poodle
Take his whooping N2.18 trillion supplementary budget. Tinubu budgets N13.5 billion to renovate his residence and that of his vice-president; N5.8 billion to buy vehicles for the presidential villa; N1.5 billion to buy SUVs for his wife's "office", and N4 Billion for a presidential yacht. Bloomberg, the global financial news outlet, says: "Nigerian President Bola Tinubu's first supplementary budget includes a fleet of SUVs for himself and his wife, a presidential yacht and the renovation of his villa amid a cost of living crisis for some of the poorest people in the world." At the same time, the Revenue Mobilisation, Allocation and Fiscal Commission, RMAFC, approved a 114 per cent salary increase for political office holders, including the president. Meanwhile, Tinubu's son flew a presidential jet to watch a polo match in Kano. Add all these together, you have a president who puts his personal comfort and the comfort of others in power above the wellbeing of ordinary citizens.
But Tinubu also puts politicking above governing. Since his first day in office, he has made political calculations to shore up support for his re-election in 2027. Wike's appointment as FCT Minister is central to such calculations. Of course, Wike's appointment was, in part, to compensate him for his controversial role in Tinubu's election, but it's also to bolster Tinubu's support base in the South-South. As a result, Tinubu has given Wike more power than any FCT Minister ever had.
For instance, Tinubu exempted FCT from the Treasury Single Account, TSA, introduced to tackle corruption and mismanagement in government parastatals. The exemption gives Wike vast control over the resources and revenues of the FCT. Tinubu also approved the creation of the FCT Civil Service Commission, which would give Wike enormous administrative powers. Yet, the FCT has no stand-alone legislature to hold Wike accountable. As a Minister, he is answerable to Tinubu who, for political reasons, will look the other way. Thus, Tinubu has made Wike the Emperor of Abuja much like he was the Emperor of Rivers State!
But Wike exemplifies the saying that power corrupts, and absolute power corrupts absolutely. Indeed, in his first day in office as FCT Minister, he exuded magisterial power by parading an armoured Lexus LX 600 SUV with the plate number "FCT-01". Those who did not know that politics and government is about the actualisation of human flourishing hailed Wike as "Mr Project" for building bridges and flyovers even though Rivers State has among the highest unemployment and poverty rates in Nigeria, and his government failed to pay salaries and pensions for years. But even if Wike was "Mr Project", he was also "Mr Demolition". As governor, he demolished the properties of countless political opponents, as he's likely to do in Abuja. And, of course, political thuggery and killings were prevalent under his administration. Indeed, in their book titled 'Nigeria: What Everyone Needs To Know', John Campbell and Matthew Page said the ruling party in Rivers State "armed and funded vigilante groups as a tool for rigging elections."
As I said, it was for such political utility that Tinubu appointed and empowered Wike as the FCT Minister. Wike has already shown his appreciation by pledging his commitment to Tinubu's re-election. Recently, he told Rivers State APC members who visited him: "We will vote for Tinubu again in 2027." Yet, he insists he is a PDP member. Indeed, PDP governors paid him a courtesy visit, even though he told them point-blank that he would campaign against PDP's presidential candidate in 2027. No serious democracy works that way. But Wike has tightened his grip on the PDP and will go for the jugular, ensuring the party is dead and sunk by 2027.
Yet, Wike can only flex such political muscles because of his position as a powerful FCT Minister. If he was just another Minister, without Abuja as his personal fiefdom, he won't indulge in political grandstanding as if he was still a powerful governor. Which raises the question: Given that Wike has no relevance without political power, why is he able to use the pivotal office of FCT Minister to undermine the party system that underpins Nigeria's democracy? Surely, it's the height of political arrogance and insensitivity that, for selfish reasons, Tinubu allows Wike to use Abuja, Nigeria's administrative and political capital and a symbol of neutrality, as a power base to pursue his personal agenda and destructive politics.
That toxic politics was on display recently when Wike attempted to trigger the impeachment of Siminalayi Fubara, his immediate successor, less than six months into his governorship. Fubara was Rivers State's Accountant-General under Wike, who hand picked him as his successor. When EFCC declared Fubara wanted and attempted to arrest him before the election over alleged misuse of N435bn, Wike stood four-square behind him. So, how come he wanted Fubara impeached within six months in office, saying "impeachment is not a military coup"?
Wike dismissed allegations that he fell out with Fubara so quickly because he refused to meet his demand for N20bn every month. Rather, he said: "I have to be politically relevant, and I must maintain my political structure." But how do politicians maintain their political structure? Of course, they use public funds as political currency. So, it's hard to believe that public money and contract awards are not at the heart of Wike's animus towards Fubara.
But I repeat: Wike would be politically irrelevant without being FCT Minister. The office gives him the political clout and wherewithal to cripple the PDP and turn Fubara into his poodle. Yet, Abuja's neutrality demands that no politician should use it as a base to fight political opponents and toxify Nigerian politics. Wike as FCT Minister offends Nigeria's sensibility!
•Written By Olu Fasan