Covenant University sacks staff member over sexual assault scandal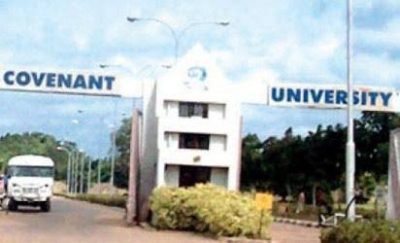 Covenant University (CU) says it sacked one of its staffers enmeshed in a sexual assault scandal.
On Monday, claims by anonymous individuals surfaced that some staffers were assaulting CU's female students.
The claims targeted different staff members, including hall monitors, school clinic workers, and security officials.
The accusers, who took to Instagram to raise alarm, further tagged public figures to escalate the matter.
"Do something now. We don't want to see your candles after we lose another girl child," one exclaimed.
A source alleged that the staffers make difficult rules and solicit sex for studentship when the rules are broken.
"The staff in Covenant University are raping the students," they said in the screenshot from a viral private chat.
"They'll set stupid rules and, if the students should break them, they sleep with them in exchange for their studentship. A girl is in a coma now.
"She did an abortion for the head of the student disciplinary council. He got her pregnant and still expelled her. So many students there are being abused. It's a Christian university for crying out loud.
"Covenant University has hidden so many deaths. They've expelled students for trying to stand up for their rights."
TheCable Lifestyle contacted Abimbola Oyeyemi, the Ogun state police PRO, after efforts to reach the university management proved abortive.
Oyeyemi stated that the Ogun state command had yet to receive any such report across its stations.
"We cannot act on a case that has not been reported," the police spokesman said.
BBC Pidgin reports that it reached a source in CU's alumni committee who disclosed that the main staff member involved in the assault scandal had been sacked.
The committee was quoted as saying it had complained to university management over a week ago.
It said the management investigated the matter and relieved one of the involved staff members of their job.
The alumni committee didn't, however, reveal the identity of the sacked staffer.
"We spoke to the management to help them understand the issues and what they need to do," the committee said.
"As we were in talks with the management, we heard that one of the main people called out numerous times on social media in the accusations have faced staff disciplinary committee a few weeks ago.
"The management has terminated their employment."