Defection: Dep. gov. Rauf Olaniyan complies with Makinde's order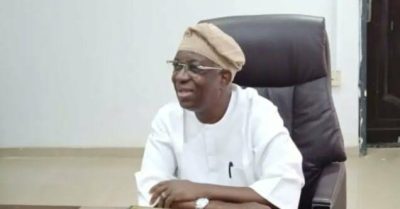 Oyo State Deputy Governor, Alhaji Rauf Olaniyan, on Tuesday complied with the order of Governor Seyi Makinde to relocate to a new office after he defected from the Peoples Democratic Party, PDP to the All Progressives Congress, APC.
The News Agency of Nigeria (NAN), reports that Gov. Seyi Makinde, had recently ordered the relocation of his deputy's office from the building complex housing both of them within the State Secretariat, Agodi, Ibadan.
Makinde gave the directive few days after Olaniyan abandoned him in PDP.
Oyo state lawmakers had last week issued impeachment notice of seven days to the Deputy Governor following his defection from the ruling party in the state.
Speaking to journalists at his new office, situated at the State Ministry of Environment and Natural Resources on Tuesday, Olaniyan vowed to remain committed to the growth and development of the state.
He said he wasn't bothered about the relocation of his office, adding that the relocation did not change him, nor affect his performance as the state deputy governor.
While calling on his supporters to remain calm, he said the issue of relocation of office was not beyond the administrative arrangement, adding that and that he did not see it as a witch-hunt.
Olaniyan said that he could work anywhere, pointing out that the relocation would not affect his capacity as the number two citizen of the state.
According to him, my position as the Chairman of the State Boundary Committee still remains intact, saying he has attended to two or three official files since he resumed on Tuesday.
"I was a civil servant for 28 years and I didn't receive any query for one day, so why should I got a letter that the governor directed me to relocate and I would not comply ?, " he said.
When asked about his impeachment process before the State House of Assembly, Olaniyan said he wouldn't comment on it.
All his security personnel, aides and other staff attached to his office were seen with him in the new office.
(NAN)