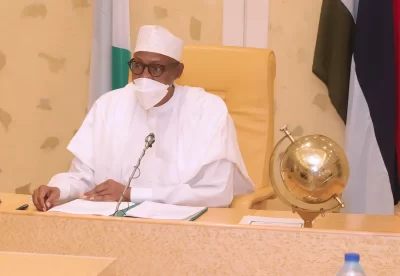 President Muhammadu Buhari has written a letter to the Independent National Electoral Commission (INEC), requesting advice over the Electoral Act Amendment Bill 2021.
The letter addressed to INEC Chairman, Prof. Mahmoud Yakubu, sought comments on the controversial sole adoption of direct primary option for parties to produce candidates for elections among other key issues ahead of 2023 general elections.
Some governors and federal lawmakers have disagreed on the revised Electoral Act passed by the National Assembly on November 9, 2021 over the adoption of direct primaries.
Last month, Senate President Ahmad Lawan said the expectation of members of National Assembly was that Buhari would sign Electoral Bill 2021 into law.
He called for more engagements to be coordinated by the leadership of the All Progressives Congress (APC) to resolve any form of disagreements and assuage the feelings of governors who were not happy over the direct primary option.
Penultimate Thursday, the Speaker of the House of Representatives, Femi Gbajabiamila, said the President was in support of the direct primary which allows all card-carrying members of political parties to be involved in the choice of candidates for major elections after a meeting with the president.
The president, who received the bill 10 days after it was passed has until December 19, to sign it or communicate to the National Assembly his feelings and comments about the bill.
The Senate and the House of Representatives can recall the bill and pass it if after 30 days the president refuses to sign the bill.
The bill automatically becomes a law even without the signature of the President if it is passed in the form it was sent to the President by two-thirds majority votes in both chambers.
Daily Trust awaits an update on the content of the letter from the Senior Special Assistant to the President on Media and Publicity, Garba Shehu.
But Shehu had earlier said in an interview with Punch that the President would continue to consult with relevant stakeholders on the matter before the bill is signed.
"The President will consult with those who he believes are important to his decision and who can advise him on the Electoral Act. And he will meet them. But I cannot draw boundaries or name specifics and say this is who the President might meet. He ultimately decides," he said.
The President of the Nigeria Labour Congress (NLC), Ayuba Wabba, has advised the President to sign the Electoral Act Amendment Bill.
In a letter, he urged him not to yield to the pressure from governors and other groups. (Daily Trust)