Easter: Local rice witnesses higher patronage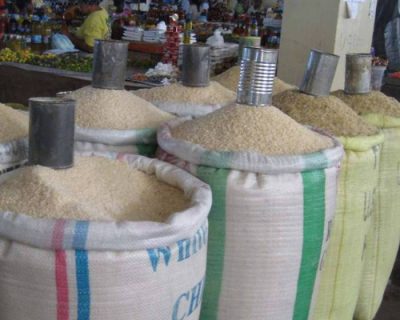 Ahead of Easter celebrations, patronage of local rice has shot up in Enugu as dealers make brisk business,
A News Agency of Nigeria (NAN) reports that local rice business had been booming since the beginning of the Holy Week.
Mr Edward Nneji, a local rice seller at Garki Market told NAN that many residents now prefer local rice to foreign rice due to the difference in their prices.
According to Nneji, a 25 kg bag of local rice goes for N7, 500 in the market while the 50kg goes for between N15.000 and N16, 500.
"A 25 kg bag of foreign rice goes for N9, 500 and the 50kg for between N18, 500 and N19, 500. A cup of local rice sells for N70 and a cup of foreign for N100.
Mrs Juliana Ubochi, a rice seller at Mayor Market confirmed that many consumers now buy local rice for the price difference.
''I am sure that it is because of price difference that has been making people to buy more of local rice, since a cup of local rice is N70, many prefer buying in cups than in bags.
''Due to the high cost of foreign rice, many people are now going for the local, especially people with large family,'' she said.
Mr Reuben Obi, who sells rice at the Kenyatta Market, said he had made a lot of profit since the beginning of the Holy Week from selling local rice.
Obi said that he was sure that the patronage would continue even after the Easter Celebration because the price of the foreign rice would continue to rice due to the ban on importation on the foreign rice.
At Ogbette Market, Mr David Ngwoke, another rice seller said with the high patronage experienced in local rice, there was need for rice farming to increase so as to have enough in future.  (NAN)