Northern Governors Opposes Oyegun's Term Extension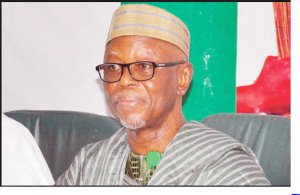 There are strong indications that northern governors in the All Progressives Congress have withdrawn their support for the elongation of the tenure of the party's National Working Committee.
on Saturday that the party's stakeholders were looking beyond the National Chairman, Chief John Odigie-Oyegun, to lead the party.
It was gathered that key supporters of the party's National Chairman,  especially northern governors,  had shelved their earlier decision to sink or sail with the chairman.
A highly-placed party leader, said the President's move during last Tuesday's National Executive Council meeting was akin to a "checkmate in a game of chess."
The party leader said, "President Muhammadu Buhari is the main reason why Chief (Odigie-) Oyegun lasted this long as chairman, many may not know or simply choose to disagree with this fact.
"Some of our governors, who felt comfortable with Oyegun's leadership style, aligned with certain interests at the Villa to convince the President on the need to allow Odigie-Oyegun to complete his term despite resistance from people like Asiwaju Ahmed Tinubu.
"The argument then was that we should not behave like the Peoples Democratic Party where party chairmen were changed almost every year.
"They further argued that removing Odigie-Oyegun at that time, no matter his perceived indiscretions, would create some sort of instability within our party.
"It is not easy to convince President Buhari, but once he is convinced about something, he supports it wholeheartedly.
"Being the leader that he is and a person who swore to uphold the constitution, when his attention was drawn to the adverse consequences of this constitutional breach, he sought a legal opinion.
"His legal team, including the Vice-President, convinced him and he chose to err on the side of caution."
The party leader also said, "Most of our northern governors are aware of the President's principles on such matters and have since fallen in line.
"What is before us now is the setting up of the various congress and convention committees and agreeing on who the next chairman is."
A highly-placed member of the party's NWC, also said so as not to "ruffle feathers", explained that the issue at hand went beyond the person of the party's National Chairman.
On the contenders for the APC top job, he said, "For now, our choice is limited to Edo State. And like you may know, when you mention Edo, Adams Oshiomhole cannot be far away."
However, it was learnt that some southern governors and ministers had started a campaign in support of tenure elongation for Odigie-Oyegun and others. (The Nation)