'Engines were tampered with' — Osun speaks on averted crash of Adeleke's plane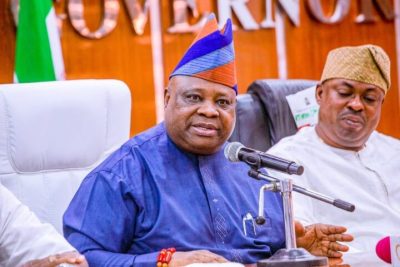 The Osun government says the engines of a plane boarded by Ademola Adeleke, governor of the state, and some of his aides on September 5, were tampered with.
In a statement on Sunday, Olawale Rasheed, spokesperson to Adeleke, said the near crash incident occurred shortly after the governor and his aides boarded the plane and "less than two minutes after commencement of taxing on the tarmac".
Rasheed said the pilots halted the take-off of the aircraft following a noise from the engines, adding that Adeleke and aides were safely evacuated.
The spokesperson said an internal investigation into the mishap revealed sabotage on the plane, noting that the "highly technically equipped aircraft was well maintained with the best technical crew".
"An early warning noise from the engines immediately prompted the pilots to direct the evacuation of the passengers. Everything happened within five minutes," the statement reads.
"Early reports from the internal investigation indicated sabotage. But the authorities, locally and internationally, are still investigating the incident.
"We however want to assure the public that Governor Adeleke and his aides are safe and there was no injury or any outward explosion on the plane.
"The Governor expressed his deep appreciation to well-wishers and supporters who have been calling since the report of the incident. Mr. Governor is hale and hearty." (The Cable)