We are waiting for Obasanjo to 'bark like a dog'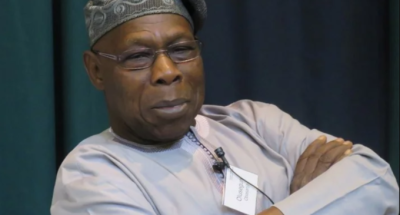 Nigeria's former president, Olusegun Obasanjo, courts controversy like a moth to flies. I once asked him why he was this mischievous. He looked at me and smiled and pulled my hands in a playful gesture as we walked towards his 'ayo' game.
In doing the research for my play – Aremu, which depicted his very colourful life, one contending strain was the fact that something in him snapped the moment he faced what looked like certain death in the hands of military ruler, Abacha.
Having been saved by the universe, he gained a certain courage and a new mission. He, more than ever before, felt a very strong urge to be our messiah whether we liked it or not. He adorned an invisible superhero cloak and flew like Superman all over Nigeria attempting to right wrongs and make things right. He indeed became our village headmaster.
Unlike the famed Spiderman or the Superman of our youth who used spider webs and laser beams as weapons, Chief Obasanjo devolved, letter writing, harsh criticisms and in some cases physically pulling the ears of some errand leaders and generally not even giving a hoot if we feel pain or not as weapons of choice.
Once he drops his letters, the barrage of attack starts — "Ohhh he is not a saint, ohh he is a philanderer, ohh he is the source of our problem, ohhh he gave us Yar'Adua" — but Baba has moved on to his farm looking for the rats who try to devour his plants.
This latest one has seen us waiting in bated breath for him to start barking like a dog. Very strong Yoruba cultural warriors after seeing the video where Obasanjo instructed Oyo traditional rulers to 'common' stand up have rushed to bring back the story of Bode Thomas who was said to have started barking like a dog as a result of disrespect he meted out to a revered traditional ruler.
Very proud Yoruba people have said that the same will happen to Obasanjo for daring traditional stools of the Yoruba and another very controversial Yoruba Oba who has done more damage to Yoruba culture and stools with his carriage is at the front of the attack.
He has been given three days to apologise or begin to face dire consequences. The pastor who was given 24 hours to apologise to the witches or die in Port Harcourt is still out there collecting tithes blissfully one year after. We are also still waiting for Naira Marley's passage; if all the videos of people taking his image to various shrines in a painful search for revenge on the death of the young singer, Mohbad.
Realistically I do not think Obasanjo will bark like any dog, or will suddenly strip his clothes and walk around naked on his farm for this sacrilege. The simple reason is that I do not think there was any sacrilege or disrespect to the Yoruba culture or traditions by this one episode and I will say why.
First and foremost of all those who have come out to shout, including the traditional ruler who has turned his throne into a circus, none have more respect for the Yoruba ethos and culture than Baba.
He has been shown severally prostrating to deserving monarchs, from the Ooni of Ife to the Olu of Warri. He is a capped traditional chief in so many domains and an elder, who at his age is a custodian of the traditions of his people. So I really doubt that he would now take mud and plaster on the traditions of his forebears
If we take emotions out of it, we will see the bastardisation of the whole visage by politicians. Obas and Obaship have been created all over the place and what we have now in most Yoruba townships are 'kobo kobo' Obas who in themselves are nothing but civil servants. Simple.
In Ogun state, for example, we have them in almost every street. In Oyo, over 50 were created in one day and they will all sit in a hall like youth coprers receiving their passing out certificates.
In Lagos, we have kings everywhere. We even have a Gucci King and in Shomolu we have like in every street.
What this does is the whittling down of the influence of the paramount rulers and the continued desecration of the traditions of a very proud people especially when people whose chiefdom lineages are are elevated to Obaship for whatever reason.
I have seen pictures of Obas who place their staff of office and crowns on the floor with their heads exposed in public functions. I have seen Obas spraying musicians at parties and all sorts.
The huge paramount rulers like the Ooni of Ife, the Ewi of Ado Ekiti that I just visited, the Alake of Egba land and so many others, still retain their prestige and respect. Their courts remain dignified custodians of our cultures and pull in a lot of respect. Dare visit the so-called palaces of some of these other Obas and you will cry.
I once visited one in Ogun state and it was I and chicken shit that was struggling for right of way. The palace was on the main road with no fence with street hawkers everywhere and the Oba nowhere in sight. He lives in Lagos and only comes home to vote. Kai
It is not Obasanjo who has desecrated the traditions of our forefathers, it is the system that appoints Obas, puts them on a salary scale, promotes and demotes them on the whim of the governor and makes them report to the local government chairmen or a commissioner for chieftaincy affairs. Those are the ones who have desecrated the very rich Yoruba culture that is being celebrated globally.
Emotive arguments aside, what Obasanjo was really trying to bring out is the supremacy of the people's mandate as enshrined in our constitution and represented by elected officials over that of natural rulers who derive their authority from tradition.
This supremacy cannot be questioned as our elected leaders carry the weight of authority based on the mandate given them by the people. This is why the governor of Kano can dethrone the Emir of Kano and break his emirate into four.
So if there is a renewed struggle to put our kings ahead of the constitution then the fight would not be from Obasanjo, we would have to go back to the constitution and make almost all the one million traditional rulers in the country our sovereign heads.
Then at that point, we will see that Obasanjo will not only bark like a dog but will roar like an American pit bull. Till then, something tells me that Baba will still be in his hilltop mansion in Abeokuta enjoying his favourite meal with these same Obas queuing downstairs seeking one favour or the other.
If you go there this morning, you will see at least 50 lazing around the compound waiting for an audience with one of the greatest living Africans.
Come and beat me.
•Written By Joseph Edgar