'Fake beggars': Police nab four for 'injecting minors to make their stomachs swell'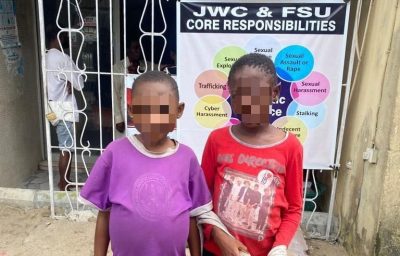 Benjamin Hundeyin, spokesperson of the Lagos police command, says four men have been apprehended in the state for allegedly parading minors as beggars.
In a post on Twitter on Saturday, Hundeyin said the men got the minors from villages and brought them to Lagos to seek alms.
According to the police spokesman, a medical doctor allegedly provided injections which were given to the children to make their stomachs swell.
"These men get minors from villages, get a medical doctor to allegedly inject them with substances that make their stomach swell outrageously, and parade them in road traffic as critically sick, to get alms from motorists," he said.
"Investigation is ongoing."
He, however, advised Nigerians to be careful about who they handed over their children to.
Meanwhile, the development comes months after the Lagos state government said it had set up a team to curb street begging and hawking in the state.
In August 2021, Olusegun Dawodu, Lagos commissioner for youth and social development, had said the special team was set up by the ministry of youth and social development, with the support of the Lagos police command.
"Governor Babajide Sanwo-Olu will not fold his arms and watch the state become a haven for beggars. This has become big business for some groups of people," he had said.
"Our investigation revealed that beggars and hawkers (children and adults) are transported regularly from other parts of the country to Lagos. This is with the sole aim of doing this odious 'business' that demeans humanity and abuses innocence in the case of children, who are being pushed into this degrading trade."
(The Cable)