FG constructing 44 road projects with Sukuk funds – Fashola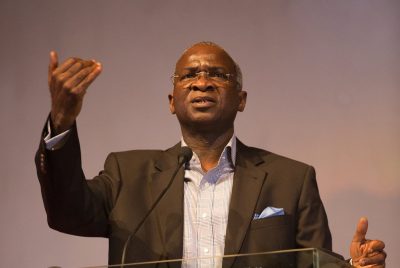 Babatunde Fashola, minister of works and housing, says 44 road projects are currently funded under the Sukuk programme.
Fashola said this on Monday at the inauguration and handing over of Phase I and II of Vandeikya-Ogbudu Cattle Ranch road in Tsua, Vandiekya LGA of Benue.
Sukuk is an Islamic liquidity management instrument used by many governments and corporations to finance big projects.
Since the establishment of the initiative in Nigeria in September 2017, the Debt Management Office (DMO) has issued three Sovereign Sukuk — 2017, 2018, and 2020.
Earlier this month, DMO said it would issue another N250 billion Sukuk to finance road projects.
Fashola said that the completed road would positively impact the lives of the host communities, commuters, and the general public.
"These projects represent major investment in road transport infrastructure, which is a commitment of the Buhari administration as a driver for economic growth and prosperity," NAN quoted him as saying.
"They are visible and incontrovertible assets in proof of what Nigeria's resources are invested in from a combination of our earned resources and borrowings.
"This occasion affords another opportunity to acknowledge the impact of the Sukuk funding in the completion of Azare — Potiskum, Shuwarin — Potiskum, and Sokoto-Tambuwal-Kontagora Roads."
According to the minister, other handing over formalities that will follow the formalities in Kebbi and Vandeikya LGA would be in Section II covering 142.2km dualisation between Shuwarin and Azare, connecting Jigawa and Bauchi states.
Others include Section III covering 106.3km dualisation between Azare and Potiskum connecting Bauchi and Yobe States, Nnewe-Uduma-Uburu road covering 26.27km with 14 km spur to Ishiagu, connecting Enugu and Ebonyi states.
On his part, Babangida Hussaini, permanent secretary, federal ministry of works and housing, said the road was awarded to China Civil Engineering Construction Corporation (CCECC) Nigeria Limited at the cost of N6.6 billion.
Hussani, who was represented by Rugba Emengo, highways director, north-central, said the first phase of the contract was awarded in 2012 while the second phase was awarded in 2015.
In his remarks, George Gao of CCECC assured that the road was built according to the ministry's approved standard.
Gao said that the road, which took over seven years to build, would last for more than 30 years.
He added that the road had a pedestrian way and other related facilities such as the installation of signaling and safety systems. (The Cable)