FG prohibits children below 11 years from taking entrance exams into unity schools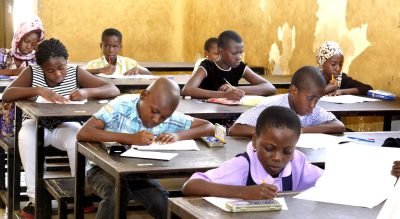 The federal government has banned underage children from participating in the National Common Entrance Examination (NCEE) for admission into federal unity colleges across the country.
The government directed the National Examinations Council (NECO) to put strict measures in place to prevent underage children  from registering for the examination, including making birth certificate compulsory as a registration requirement.
David Adejo, permanent secretary, federal ministry of education, issued the directive on Saturday in Abuja while monitoring the conduct of the 2023 NCEE into the 110 federal government colleges across the federation.
He said that a total of 72,821 candidates sat for the examination on Saturday.
Adejo said to get into secondary school, a candidate should be at least 12 years.
He said a child could be above eleven during the examination but by September, that child should have attained the age of 12 years.
The permanent secretary said that after monitoring the exercise at the Federal Government Girls College, Bwari, and Government Day Secondary School, Bwari, he was unhappy to see many underage persons taking the examination.
He insisted that it was unacceptable for candidates  less than eleven years to take the examination.
Adejo said: "This year, I have advice for parents and I beg you, take this advice to any single home you know. We are killing our children by allowing underage children to write the Common Entrance Examination.
"I saw children that I know that are not up to 10, and three of them accepted that they are nine years old. We are doing many things; one, we are teaching the children the wrong values. Education is not about passing exams. Education is teaching, learning and character formation.
"I beg the parents, let these children do the exams when they should. We don't get value by pushing your child too far. Most of the times if a child starts too early, he or she will have problems later in life.
"Education is designed in such a way that at any particular stage in life, there are messages your brain can take and understand and be able to use. We are moving from education that is reliant on reading textbooks and passing exams.
"We are getting to a stage where education is what can you use your knowledge to do for the society. You put a small child to go through all the rigours, by the time he finishes secondary, getting to University becomes a problem.
"I had that experience with a friend. Till date that friend did not get into a University, simply because he was put into school earlier than the age that he was supposed to be put into school.
"Let our children get to an appropriate age before writing this exam and we are going to make sure NECO puts in place appropriate checks.
"We didn't want to get to where we will say bring birth certificate but that is the stage we are going to now. When registering, also upload the child's birth certificate, so that at our own end, we are able to cut some of these things." (The Cable)