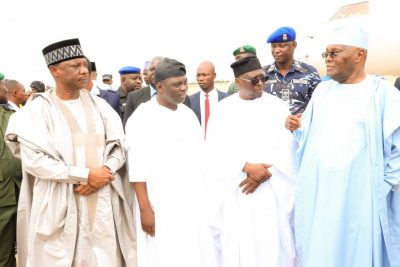 Atiku Abubakar, former vice-president, says the Peoples Democratic Party (PDP) is "government-in-waiting". 
Speaking on Saturday at a retreat organised for PDP lawmakers-elect, in Bauchi state, Atiku said the party members must remain hopeful while waiting for the resolution of the dispute at the presidential election petition tribunal.
Atiku, who was PDP's flag bearer in the 2023 presidential election, was defeated by Bola Tinubu of the All Progressives Congress (APC).
The former vice-president and the PDP are currently challenging Tinubu's victory at the election petition tribunal.
"You're representatives of the party and your constituents. Do not be tempted to abandon your party just because of temporary setback. In the end, the truth and good shall triumph over falsehood and evil," Atiku told the lawmakers-elect.
"Therefore, you must please remain resolute. Do not work in isolation from one another. You're a team and should always work as a team in other to achieve meaningful results and also remain connected to your roots, your constituents and other stakeholders.
"Based on the results announced by INEC and pending the determination of the electoral challenges in the court, our members-elect are not the majority in the national assembly. So, for the time being, they have to prepare to work as an effective, constructive opposition while also preparing for a possible role as the majority party when the cases are resolved.
"Don't ever lose hope. The role of the opposition is to hold the government and majority party to account. And in doing so, you demonstrate that you and your party are ready to govern in the shortest possible time — a government-in-waiting — so to speak."
'DON'T BE A RUBBER-STAMP'
Atiku asked the lawmakers-elect in the national assembly to oppose any attempt by the ruling party to make the legislature a rubber stamp.
"You should not be part of a rubber stamp legislative arm for those who might want to govern as dictators," he said.
"Our democracy must endure; you can and you should help to make that happen. As you know, the PDP remains the only true political party that is owned by its members rather than by one or a handful of godfathers. That no one member or group of members is bigger better or more important than the party in the PDP."
Commenting on the state of affairs of the PDP, Abubakar said all members need to work in unity to rebuild the party.
"The work of rebuilding our party involves everyone, including our elected representatives. And it will involve unity of purpose. So, we must work hard in unifying our party. Let's not continue to fight yesterday's battle," Atiku said. (The Cable)