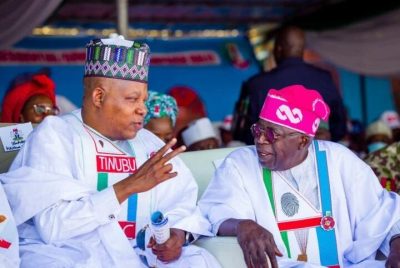 Kashim Shettima, the vice-presidential candidate of the All Progressives Congress (APC), says the fixation on the age and health of Bola Tinubu, standard bearer of the party, is "mischievous".
Shettima spoke on Monday night in Lagos at a banquet held in honour of President Muhammadu Buhari who was in the state for a two-day visit.
There have been concerns about the age, identity, and health status of Tinubu.
The former governor of Borno said he and the candidate are not preparing for the Olympics but for governance that "thrives on superior ideas".
"There is this mischievous fixation on Asiwaju's health and age," Shettima said.
"We are not urging Nigerians to turn down critical assessments of their leaders but we direct them to look at the larger picture, we are not preparing for the Olympics but an institution that thrives on the superiority of ideas and established track records."
Shettima said Tinubu is an individual that is known to sacrifice his comfort for the country.
"The roads that led us to Asiwaju did not happen by chance, this is a man that has shown a propensity for sacrificing his personal comfort for the good of the nation," he said.
"Right from the days of our struggle for the enthronement of democracy in this country to this date, a lot has been said about this political enigma but largely because quacks with a poor sense of history. When his contemporaries were trading their principles for a seat at the table in the villa during the regime of Olusegun Obasanjo, he stood for justice and fairness."
He said Atiku Abubakar, presidential candidate of the Peoples Democratic Party (PDP), sought refuge in Tinubu when he was "harassed" by his party in 2007.
"For Atiku Abubakar in 2007, when he was harassed, intimidated, and chased out of the PDP, he gave him a sanctuary and platform to contest for the presidency of this country under AC," he said.
"It happened four years later when the same platform was provided for mallam Nuhu Ribadu to contest for the presidency of this country.
"Those of us from the north owe him a depth of gratitude for supporting our leader, President Muhammadu Buhari, in 2015 and 2019."(The Cable)