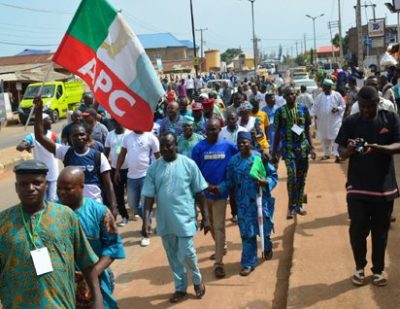 •Election Shrouded In Secrecy
It appears the gale of violence that marred the National Assembly primary elections of the All Progressives Congress (APC) across the country on Thursday is repeating itself in the state house of assembly primaries slated for today, Friday.
It will be recalled that there were violence in many areas in Lagos State during the National Assembly primaries in areas such as Kosofe area, Epe, Ifako/Ijaiye amongst others.
Sources revealed that the same thing is repeating itself across the various constituencies in Lagos State as the state house assembly primaries are holding across the state.
For instance, in Lagos Mainland Constituency 2 in Yaba Local Council Development Area (LCDA) of the state, it was alleged that the incumbent lawmaker representing the constituency in the Lagos State House of Assembly, Hon. Olanrewaju Moshood Oshun and the lawmaker representing Lagos Mainland in the Federal House of Representatives, Hon. Jide Jimoh aka JJ are using hoodlums to oppress other aspirants for the office.
A source revealed that an aspirant for Lagos Mainland Constituency 2, Hon. Dapo Bode-Thomas  and his supporters were prevented rs entering the venue of the election, adding that the situation later became uncontrollable.
"People were prevented from exercising their civic rights of voting for candidates of their choice in the election.
"Leaders of the APC should not allow this to continue uncontrollably or else we will be destroying what we built with our hands," said a source.
There were reports that there were no officials of the Independent National Electoral Commission (INEC) at the venue of the primary in Lagos Island as at noon
We were also reliability informed that aspirants in the constituency did not know their competitors officially and that important information about the primary were shrouded in secrecy as no one knew what to do next.
A source revealed that "this might be part of the plan of some senior members of the APC in Lagos Mainland Constituency 2 to return Hon. Olanrewaju Moshood Oshun to office at all cost."
It was gathered that this is repeating itself in some other wards and constituencies across the state with party members calling on the leadership of the party to find a solution to the crisis.