Hurricane Ian pummels Florida, 'Hundreds' feared dead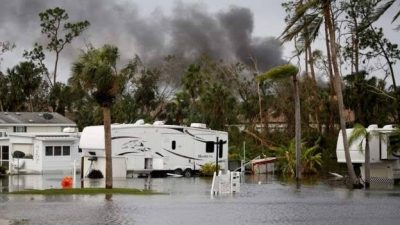 Hurricane Ian has taken its toll on Florida with 'hundreds' of people reportedly dead in Southwest area of the city.
The hurricane made landfall on Wednesday near the city of Fort Myers and brought severe flooding, high winds and storm surges.
More than 2.6 million Florida homes and businesses have no electricity and some areas have been left submerged.
Emergency crews are sawing through fallen trees to reach people who are trapped in their homes, according to BBC.
Commissioner Chris Constance told CNN that six of deaths have been confirmed in Charlotte County.
But the New York Post reports that 'hundreds may have been feared dead as Hurricane Ian pummeled Florida unabated.
Lee County Sheriff, Carmine Marceno said on Good Morning America, that "This is a life-changing event for all of us."
He added that "I don't have confirmed numbers — I definitely know the fatalities are in the hundreds. So far, confirmed in the hundreds."
According to him, "There are thousands of people that are waiting to be rescued. And again, cannot get a true assessment until we're actually on scene assessing each scene, and we can't access people, that's the problem."