I didn't support Tinubu for appointment — Fayose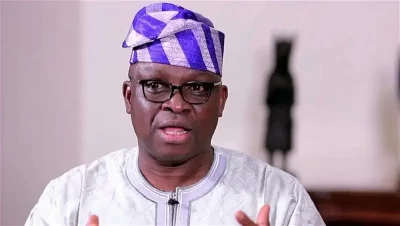 A former governor of Ekiti state, Ayo Fayose has declared that his support of the President-elect, Asiwaju Bola Tinubi was not a trade-off for an appointment.
Fayose warned that those planning to unseat the former Lagos governor, Tinubu, are merely daydreaming, saying the election has come and gone.
Fayose made this known at a programme on Channels TV, Politics Today, on Tuesday.
Recall the G5 governors demanded, among other things, the resignation of the Chairman of the PDP, Senator Iyorcha Ayu, as the basis for reconciliation.
But reacting to questions on what was the agreement with the G5 governors who supported the APC flagbearer at the just concluded election, and whether there was a trade-off for an appointment, Fayose said ' I am a former governor, I queue behind sitting governors, and when they go to meetings, I am not part of the meetings but my position is that when I support people, I am totally in submission. The directive was that we support a southern candidate because this is the position of the governors and leaders of thought.
The southern candidate is the President-elect and I have done justice. I am not desperate for any appointment, I have been a governor twice, and I am contented.
For anyone thinking he can unseat Bola Tinubu is daydreaming. The election has come and gone.
Meanwhile, Alhaji Atiku Abubakar has described calls for peace by Bola Tinubu has hypocrite, saying the President-elect can not unleash violence and start calling for peace.