I've Fulfilled My Purpose On Earth, I'll Die Soon – 40-Yr-Old Pastor, Odumeje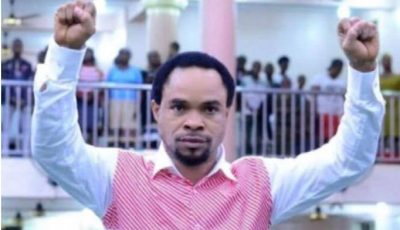 Controversial Anambra pastor, Chukwuemeka Ohanere, popularly known as Odumeje, says he has completed his work on earth and will die soon.
During Sunday service, in a video trending online, Odumeje, fondly called Indaboski, was heard telling his church members that it was time for him to go.
According to him, he had a heart-to-heart talk with his first son, David, and informed him that his last days on earth are near.
"I have called my little son, King David, and I told him that very soon, I, your father will leave. You must take care of your brothers and your mother.
"I came to this world for a purpose, and that purpose has been fulfilled. I have finished my earthly ministry, and I will leave soon," he said.
The 40-year-old pastor came into limelight with his weird pattern of spiritual deliverance, whereby he hits his church members on the floor.
He was in the news last year after he confronted officials of the Anambra State Government, who had come to demolish his church. He was beaten during the encounter.