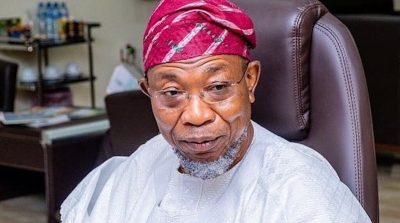 The immediate past Minister of Interior and former governor of Osun State, Rauf Aregbesola, has asked the Ataoja of Osogbo, Oba Jimoh Oyetunji Larooye, to intervene in the rift between him and some aggrieved members of the All Progressives Congress (APC) in the state.
Aregbesola, who spoke at the palace of the monarch on Wednesday on his homecoming reception, said that he was not in conflict with anyone, adding that he was ready to work with anyone in returning the APC back to power in Osun.
He said that irrespective of what happened in the past, members of the APC must heal and jettison personal gains for the reinvigoration of the party.
The former minister said that reports in some sections of the media claimed that he blamed the devil and was seeking forgiveness, saying such was untrue and misleading.
"I hold no grudge with anyone in Osogbo or Osun. My hands are open to work and receive anyone. Anyone who have issues with me have their reasons, but I hold no grudge against anyone.

"It is never my desire to leave any of them, but now that they have gone the way they did, I beseech you, our royal father, to plead with them. I would always wish them well and always desire to work with them.

"Anywhere I am, please be rest assured that Osogbo's and Osun's interests are covered," he said.