Transfer power to your deputy to avert constitutional crisis – SDP tells Akeredolu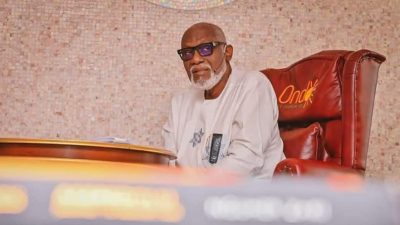 The Social Democratic Party (SDP), yesterday, urged Ondo State Governor, Oluwarotimi Akeredolu, to hand over power, in an acting capacity, to his deputy, Lucky Aiyedatiwa, to avert a constitutional crisis in the state.
According to it, the state has been at a standstill since the absence of the governor, hence the need for him to constitutionally delegate power to his deputy to keep the state running effectively.
In a statement signed by its chairman in the state, Stephen Adewale, the party said the prolonged uncertainty over governance in the state would impact negatively on the affairs of not just the citizenry but also all sectors of the state.
Adewale, who decried the silence that had followed the development, prayed for Akeredolu's quick recovery.
He, however, urged stakeholders to let their voices be heard on the situation as it relates to the constitutional issue it had generated.
The SDP chairman emphasised that the development had also led to absence of the state on national scene when the state was not represented in recent meetings of governors with President Bola Tinubu.
He said: "The state should not and cannot be left without a constitutional head in an acting capacity while he is away attending to his health."
MEANWHILE, Ondo State Government, yesterday, said the cabinet was not in disarray over the ill-health of the governor as being speculated.
According to the state government, members of the executive council are united, and the governor is not incapacitated.
A statement signed by Commissioner for Information, Bamidele Ademola-Olateju, stated that Akeredolu had been discharging the functions of his office seamlessly.
However, a top source said that Akeredolu would return to the state before the end of the month, and as such, there will be a possible rejig of the cabinet.
The source, who craved anonymity, said that some of the cabinet members had been engaging in meetings to take positions should any eventualities happen in the state.
"The governor will soon return, and all this craziness will soon stop. Certainly, some cabinet members will be excused from the state exco.
The statement reads: "The attention of the Ondo State Government has been drawn to a skewed report on the purported split in the cabinet of Ondo State Government.
"This malicious report toes the same insidious path of perfidy already trodden by certain purveyors of hagiography designed to mislead unsuspecting members of the public.
"Ondo State Governor, Arakunrin Oluwarotimi Akeredolu, is not incapacitated. The finality with which the report concluded on his state of health is most unfortunate. Another online medium had peddled the wicked lie about the demise of the governor in Germany while he was resting in Ibadan.
"The cabinet cannot be "disunited" when directives emanate from the office of the governor. There is no ambiguity in that respect. Members of the public are encouraged to disregard the wicked rumour of incapacitation.
"We reiterate that the governor has been discharging the functions of his office effectively. Governance requires collectivity. The fixation on the governor is mischievous. There is no crisis in the state. Political jobbers should steer clear." (Guardian)