I'm Used To Negative Things Nigerians Say About My Late Husband – Abacha's Wife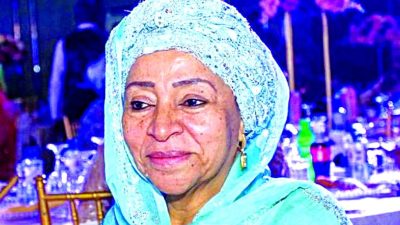 Maryam Abacha, wife of the late Nigeria's military Head of State, late General Sani Abacha, has said that since after the death of her husband, she has never missed the Presidential Villa.
She stated so while speaking to BBC Hausa about her experiences as the former first lady of Nigeria.
She said that being at the Villa was just part of her usual life experience because even before marrying General Abacha, she had lived in different parts of Nigeria with her father who was a career civil servant.
She said, "I am used to all the negative things Nigerians have been saying about my husband, and that is a normal thing with politicians. We are human beings, people will always say different things. Good and bad. Look at what's happening in Kano, and even at the national level. So people will always talk. But when we were ruling, nobody was saying anything. Nobody talked. So that's governance. Every government comes with its own pecks.
"I don't miss anything about the Villa. Because, you know, as a wife of a military man, we had been in different places. My dad was a career civil servant. So even before marrying Abacha, I had been used to staying in different parts of Nigeria.
"So even while with Abacha, we were always relocating to different places. So for me being at the Villa was just part of my usual life experience. Of course there was the prestige that comes with being a wife of the head of state, but there were also challenges.
"You know, despite that the military aren't politicians in the real sense, being in the Villa was part of politics. So, there were challenges we faced, just like every other government. But actually, I've never missed the Villa."
Today marks 25 years of the death of General Sani Abacha. He died on June 8, 1998, at Aso Rock Presidential Villa in Abuja.
He was a Nigerian military officer and politician who ruled as the military head of state after seizing power in 1993 until his death in 1998.
Abacha's seizure of power was the last successful coup d'état in the Nigerian military history.
He served as Chief of Army Staff from 1985 to 1990, as Chief of Defence Staff from 1990 to 1993, and as Minister of Defence.
Abacha was the first Nigerian Army officer to attain the rank of a full military general without skipping a single rank. (Daily Trust)